Bookstores hope to turn a new page
Share - WeChat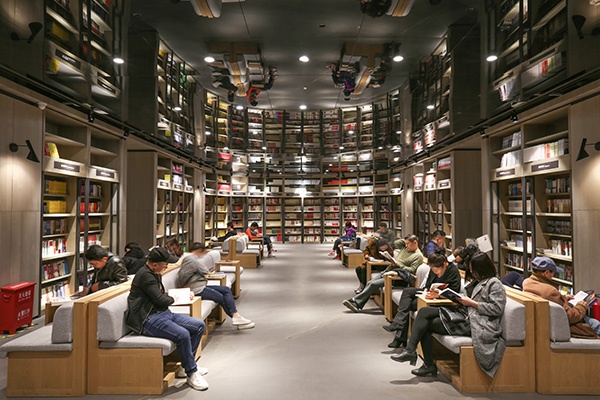 Bookshops are facing a new challenge from the online market. This is highlighted by statistics, released earlier this month, from Centrin Ecloud, a big data platform for China's publishing industry. The data shows that, in 2019, the average discount for books sold offline was 91.39 percent, while the online equivalent was 63.79 percent. Consequently, books sold online are much cheaper than offline, and online orders are a clear and present danger to the development and existence of bookstores.
"Since the development of physical bookstores continues to be influenced by large discounts offered by online bookstores, physical bookstores have to be innovative," said Zhang Lei, an expert in publishing, while speaking at the 2020 China Bookstore Conference held in Beijing on Jan 8.
The conference, sponsored by the Books and Periodicals Distribution Association of China, Bookdao New Publishing Institute and Time Publishing and Media, was held to explore how to better develop physical bookstores and acknowledge the contribution made by distinctive bookstores.
The conference has been held for three consecutive years. The previous two focused on energizing future bookstores and bookstore brands respectively. This time it focused on the renewal of bookstores.
"The renewal of bookstores requires people in this business to make changes in the overall function, ways of management and business format integration of bookstores to better suit modern retailing and customers' needs,"Zhang says.
The 2019-2020 China Bookstore Industrial Report was released during the conference. The report listed the major events last year in the bookstore business. Opinions on the future development of bookstores and key statistics were covered in the report.
Most Popular