Bookstores hope to turn a new page
Share - WeChat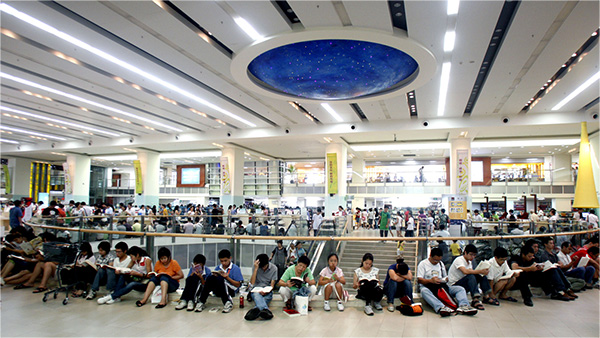 Experts talked about their experience and offered suggestions for bookstores during the conference.
Chen Xiaoming, CEO of Jihe Bookstore, highlighted the importance of building a suitable environment in bookstores to offer customers a sense of belonging and input and thus make them likely to linger in bookstores. For example, at the seven Jihe branch stores in China, arch walkways, resembling bridges, provide a sense of serenity to visitors and readers.
"The arch shape is beautiful and powerful, it can give people a sense of peace," said Chen.
Each store has a unique design reflecting and paying homage to its location. For example, the first Jihe Bookstore in Xining, Northwest China's Qinghai province, was built with the features of a snowy plateau, including the architectural style and local intangible cultural heritage, to make customers appreciate the natural splendor of the location.
Xu Zhiming, an advisor for Bookdao New Publishing Institute, suggested bookstores should also provide customers with an environment to study. "With the development of technology, many jobs will be replaced by robots and AI.As a result, people are forced to master ever more technology to ensure they do not lag behind.
"The need to learn has grown dramatically. Lifelong learning has become a must for nearly all people," said Xu.