Concerns mount for Chinese pangolin
Share - WeChat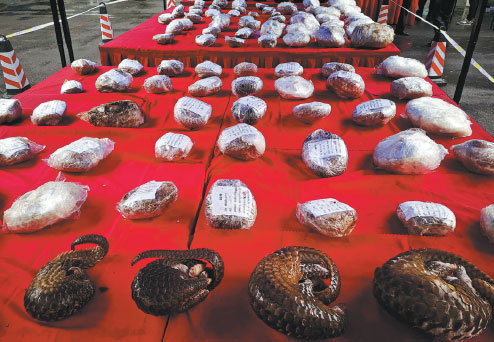 Creature threatened by habitat destruction, poaching and smuggling
On a late summer evening, Qingtian County Forestry Department in Zhejiang province received a call from a woman who had found a frightened animal trapped in the center of a busy road amid blaring car horns.
"I thought it was a cat, but when I picked it up, it quickly curled into a tight ball about the size of a melon, and I noticed that it was covered in crocodile-like scales," the woman said.
Two days later, the local wildlife rescue center collected the animal from the department and confirmed that it was a male Chinese pangolin about 2 years old. The creature weighed 6 kilograms.
It was the fourth time that a Chinese pangolin had been found in the wild in the second quarter of this year.
In July, during a sustainable development conference in Beijing, a representative of the environmental organization China Biodiversity and Conservation Green Development Foundation, whose work involves pangolin conservation, made an eye-catching claim.
She announced the "functional extinction" of the Chinese pangolin, as the organization had not observed any of the creatures in the wild for the past three years. The announcement triggered widespread public concern for the mammal.
The Chinese pangolin is a shy, elusive and secretive animal whose body is covered in hard, keratin scales. In the past five years, about 50 of the creatures have been found in the wild, nine of them newborns, according to Zeng Yan, an engineer at the Chinese Academy of Sciences' Institute of Zoology.
"This indicated that the species is not functionally extinct - a term used to describe any animal that has lost the ability to reproduce in the wild, or that reports of its existence have not been made in recent years," she said.
While experts said the species cannot be labeled "functionally extinct", they believe the Chinese pangolin population is falling significantly and is in urgent need of protection.
Wu Shibao, a zoology and ecology professor from South China Normal University in Guangzhou, capital of Guangdong province, who has conducted research into pangolins for years, said the exact Chinese pangolin population remains unknown.
"It is very difficult to calculate the current population, as this nocturnal animal usually lives underground during the day and moves from one place to another more than 10 times a year," he said. "But there is no doubt the species will be on the verge of extinction if no further protective measures are introduced".