Mum's the word
Share - WeChat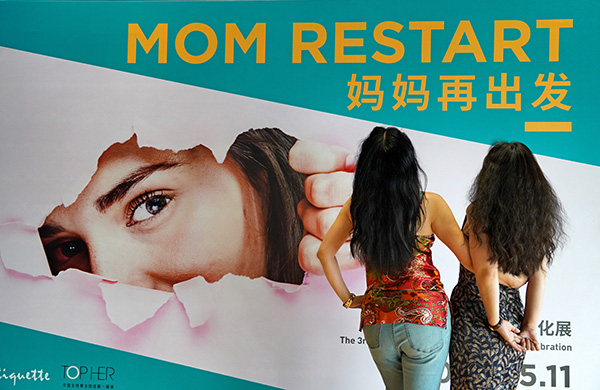 Unique festival aims to empower stay-at-home mothers
The day before this year's Mother's Day, a group of mothers, with a herbal tea or cocktail in hand and handmade corsages on their wrists, watched two plays in the Shunyifornia Theater.
The first play quickly unveils the anxiety hidden underneath the tranquil facade. With self-deprecating language, five stay-at-home moms in the play talk of their insecurities about their bodies, their lack of communication with adults and their fear of being left out by society.
The play is part of an annual cultural celebration with a special focus on the women of the households, the recurring sections of which include a theater production, an art exhibition and a forum.
This year's events, themed "Mom Restart", put stay-at-home mothers in the spotlight, and sought ways to help them find their vocations and achieve self-actualization besides providing 24/7 service for their families.
The first play, Full-time Housewives Live 9,000 Years, is written by stay-at-home mom and part-time columnist Tao Tai.
Most Popular