Mission accomplished
Share - WeChat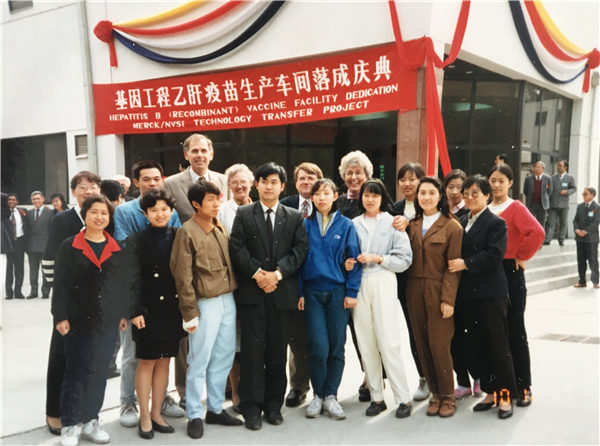 Born and raised in wartime Shanxi, Eugene Wampler's life came full circle when he returned to China to help develop a vaccine that would go on to save millions of lives.
In 1922, Elizabeth Wampler, a nurse who had been sent to work in China by the Christian church, had a photograph of her taken with Chinese twin brothers, children that she had either treated or helped to deliver, in southern Beijing.
Thirteen years later, Wampler, whose time in China extended far beyond that point, had two boys of her own - one born in 1933 in a village in Shanxi province, North China; the other in 1935 in a village 200 kilometers further southeast.
For the next 70 years, the Wampler family saw themselves riding a roller coaster through the ever-changing landscape of China. They labored alongside local farmers, survived a Japanese bombing raid and an aircraft malfunction, witnessed the killing of their Chinese friends, endured the pain of separation and helped to improve the lives of millions of newborns.
"We are half-American, half-Chinese," says Eugene Wampler, her younger son who returned to China half a century after his departure in 1949, to, as he adds, "close a circle first opened by mom".
Between the late 1980s and the mid-1990s, Eugene Wampler, now 84, was closely involved in introducing to China the genetically engineered hepatitis B vaccine - Recombivax HB - that would be used to protect a huge number of newborns from what was then China's No 1 disease.
"By the end of the 1980s, 20 million babies were born in China each year, one in 10 of whom would become a chronic carrier of hepatitis B. And of those carriers, half would eventually die of liver-related diseases," he says.
A senior research fellow for Merck, an American pharmaceutical company, he was among the core members responsible for developing Recombivax HB - a drug that went on to prevent up to 120 million hepatitis B infections and 3 million related deaths in China.
"Previously, antigens for making the vaccine had been drawn from the blood of HB patients," says Eugene Wampler.
"This was exactly the method used by the Chinese since the early 1980s, a method that not only carried an inbuilt risk for contamination - a hepatitis B carrier could also be an AIDS victim, for example - but also had proved severely inadequate when faced with China's gigantic population that needed vaccination."
According to him, by the late 1980s, the Chinese government was already approaching several pharmaceutical companies in the United States concerning the introduction of a new method by which the vaccine could be made with a genetically engineered strain of yeast.
China in 1989 had more than 180 million HB carriers.
At last, a contract was signed with Merck. The goal was for China, where people were generally reluctant about donating blood, to be self-sufficient in HB vaccine production, according to Eugene Wampler.