Heritage item
Share - WeChat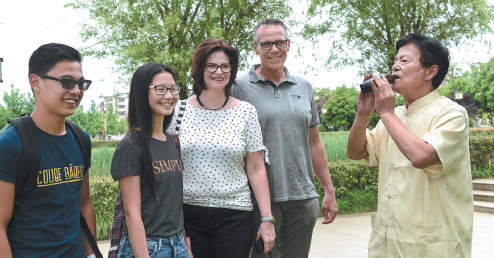 A county is promoting the revival of a musical instrument from the Three Kingdoms period, Huang Zhiling reports in Wuhan.
People taking a stroll in the Erqiao Park in Jiayu county, Central China's Hubei province, often notice an elderly man playing a wind instrument called wudu.
The picturesque park is where the county's intangible cultural heritage center is located. And, related items showcased there include the musical instrument that was once used by those herding sheep. Now, visitors from outside the county marvel at Bi Yinsheng, 69, who plays the wudu.
The instrument was known to have been popular with shepherd boys in Jiayu during the Three Kingdoms period (220-280), when the county by the Yangtze River was under Wu rule, says Huang Jinhui, a former local publicity official. The riverbanks were long and when the shepherds needed to communicate with one another, they would play the wudu as well.
According to local chronicles, the wudu dates back more than 2,700 years and is a clay musical instrument in China that is capable of resonance.
In 1982, Bi, then a staff member of the Jiayu county cultural center, was asked by the county government to produce it. He was born in a poor family and a disease had deprived him of sight in one eye as a child. But he had a gift for music and could play various instruments. Before he worked in the county cultural center, Bi was a flute player in a music troupe for 14 years.
After four years of studying local chronicles and experimenting, Bi managed to produce a wudu in 1986. The wudu is hollow and shaped like a fish, with 10 holes in its belly and back. The playing technique is similar to that of a flute. When the music is soft, it can make people calm. And, when it is loud or sonorous, it can energize people.
Bi attended a national meeting about musical instruments in Nanjing, Jiangsu province, in 1990. The instrument evoked the interest of musicians present there, and Bi was invited to play a piece depicting how ancient Chinese carried out slash-and-burn agriculture at the closing ceremony of that meeting.
In 1992, Bi, who was invited to play the wudu at the China Art Festival held in Kunming, Yunnan province, became the only player from Hubei to participate in the event that year. Two years later, he played the wudu in Thailand and South Korea with the China Disabled People's Performing Art Troupe led by Deng Pufang, chairman of the China Disabled Persons' Federation.
Deng Pufang is a son of Deng Xiaoping (1904-97).
Most Popular