Rivers at the heart of China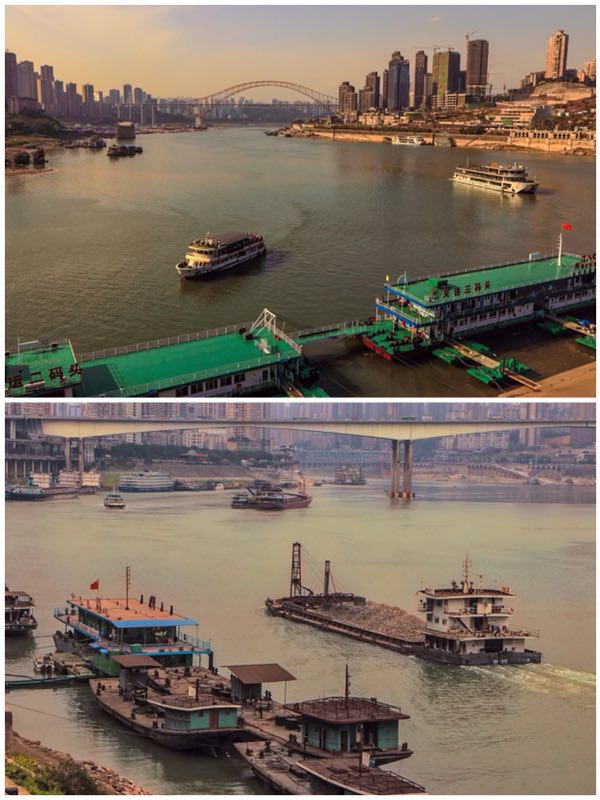 Increasingly determined to undertake a river journey myself, I headed up the West River from Guangzhou to Wuzhou in Guangxi. That journey lasted almost 24 hours in spring 1993. Much of the voyage I simply stood on deck surveying the scene, of bustling activity around Foshan where passengers were transferred to our lager passenger vessel by smaller wooden boats. Even as night fell, I still stayed on deck watching the towns we passed through. By sunrise the panorama was of misty mountain peaks rising above river banks where farmers walked their buffaloes to the water edges. People fished from simple wooden sampans while large rafts of bamboo logs were floated downriver past barges carrying shipping containers from the larger Delta ports. There was so much activity, this being before today's expressways and high-speed rail. Indeed where I was travelling there were then no railways, the river was the main highway for people and goods. Later I would sail on the Li River between Guilin and Yangshuo, a tributary of the West River that was historical-ly linked to the Yangtze by canal. A few years later, I headed to Nanning, capital of Guangxi, close to the border with Vietnam. Even there boats then still connected with Guangzhou.
By far, my greatest river journey, in 1994, followed the "Long River" from Leshan where the Dadu He and Minjiang join below the massive sitting Buddha carving. It would be six days total sailing down to Wuhan. The river then was a vital corridor of life through central China where people's lives centered on its waters and the commerce generated. The arrival of the boats, at the many river towns, would generate considerable activity around the quays and landing stages we berthed at. So much transferred on and off by porters using bamboo shoulder poles. I was impressed by the skills of the boatmen who safely navigated often wildly turbulent channels through the narrows of the Three Gorges. River boat journeys I discovered were also a way of appreciating nature, of bird life particularly among the lower lake wetland areas. It gave me the opportunity to view early construc-tion work on the Three Gorges Dam before my boat was lowered down through the locks of the earlier (1988) Gezhouba Dam.
Most Viewed in 24 Hours
China Views