Going beyond the bear necessities
Share - WeChat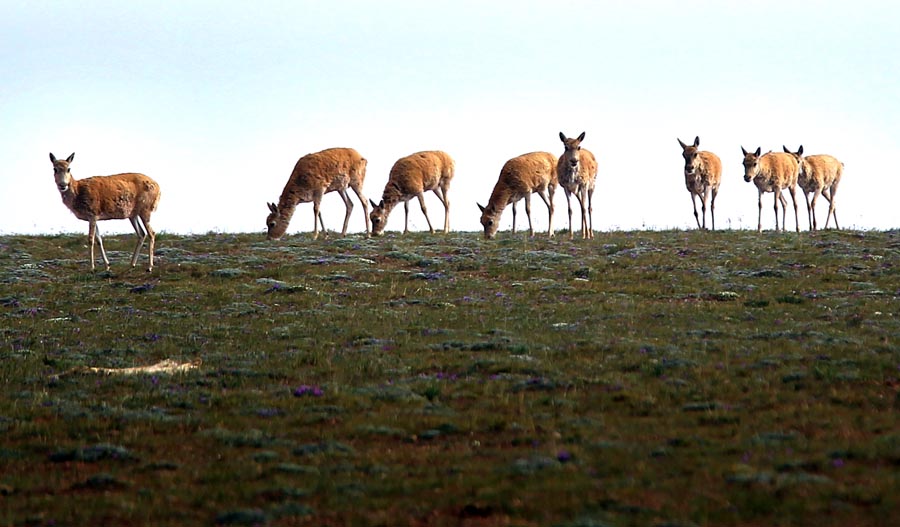 Tibetan antelope (Hoh Xil)
Why did the Tibetan antelope cross the road? To get to the other side, of course!
That is, with the help of rangers who act as crossing guards, stopping vehicles along the remote motorways where humans and antelopes intersect in every sense of the word in Qinghai province.
Such traffic control is a common site on the remote steppes and alpines of the Hoh Xil region near Yushu prefecture.
The bovid has become a symbol of wildlife protection on the Qinghai-Tibet Plateau, known as "the roof of the world" and "the planet's third pole" because of its high elevation and low temperatures.
The highlands host several rare creatures, including wild yaks, wild donkeys, brown bears and snow leopards. The area is home to around 200 species, about 70 percent in the wild globally. A third of this distinctive ecosystem's fauna are endemic.
But its wildlife is struggling as such factors as climate change exacerbate the tundra prairies' desertification.
Hoh Xil was named a UNESCO World Heritage Site in 2017 largely because of its biodiversity and the iconic appeal of the Tibetan antelope, which was also a mascot of the 2008 Beijing Olympics.
If not caught in a hooves-versus-wheels traffic jam, travelers are likely to still see the antelope cavorting in groups of a couple dozen to hundreds on the grasslands alongside the roads.