Going beyond the bear necessities
Share - WeChat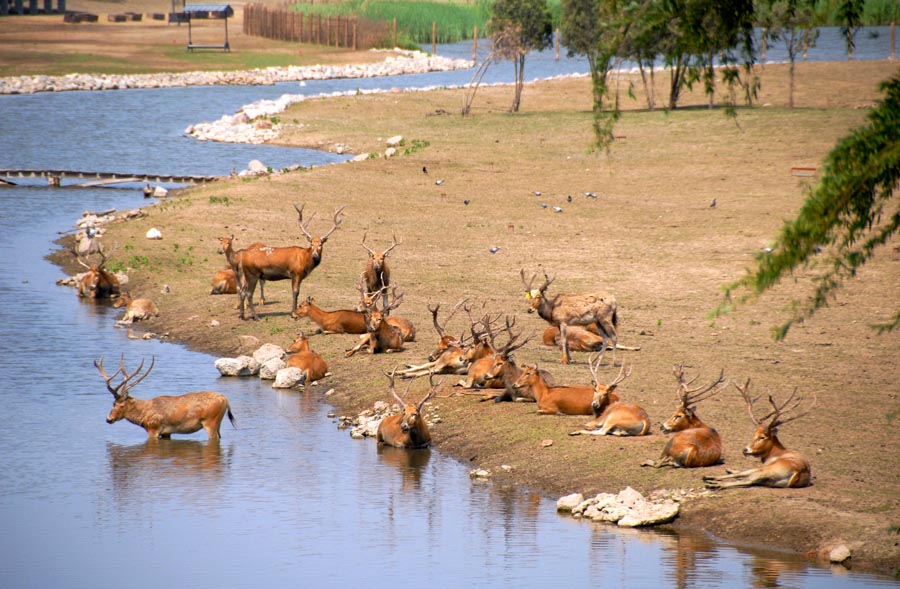 So goes the origin myth of the milu, or Pere David's deer-a species whose actual recovery story is truly legendary.
The global population once barely exceeded a dozen.
But its wild herds number around 1,500 today, and over 5,000 live in captivity.
This Chinese species' survival and revival is largely due to the actions of a French missionary, a British duke, an American zoologist and the Chinese government's conservation.
But China hosts many rare animals that, while they don't have the prestige of the giant panda-wildlife protection's global megastar-still stand out as iconic fauna.
China Daily explores some of the places where travelers can encounter these special species, brought back from the brink of extinction.
Milu (Beijing)
The history of the milu, or Pere David's deer, is one of the world's most dramatic species-survival stories.
Habitat destruction decimated the wild population in China.
Some believed eating its meat enhanced longevity or even endowed immortality. The deer lingering in the imperial hunting grounds died out around 1900.
But, in 1865, French missionary Pere David brought some to Europe, where they ended up in zoos.
The 11th Duke of Bedford later gathered 18 on his estate, establishing the lone remaining herd.
There were fears during World War II that a single bomb would take out the whole species.
A Slovak-born American zoologist reintroduced about three-dozen of the animals to China in 1985, with the blessing of the duke's successor.
They were taken to the former imperial hunting grounds, which now are the Nanhaizi Milu Park in Beijing's Daxing district, where visitors can encounter the strange and scarce deer.
The species' Chinese name, sibuxiang, translates as the "four unalikes".
That's because it's said to share physical characteristics of the four animals it mythically contains-the neck of camel or horse, hooves of an ox, tail of a donkey and antlers of a buck.
Biologically, Pere David's deer in fact belongs to the moose, muntjac, deer, roe deer and reindeer family of ruminants.
So, the ancient Chinese and contemporary international taxonomies agree the animal shares a peculiar mix of features seen in other species.
Beijing's Daxing district proposed the milu as the mascot of the 2022 Winter Olympic Games last summer. The results will be announced in the second half of this year.