The art of the Cantonese soup
Share - WeChat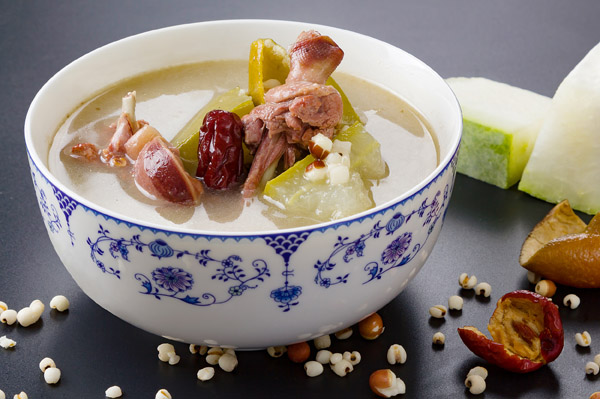 Winter melon and roasted duck soup
One roast duck carcass, cut into large sections
1 kg winter melon
1 large piece ginger, smashed
Cilantro leaves for garnish
Trim off all visible fat from roast duck pieces. Shave off the skin of the winter melon. Remove pith and seeds, cut into 2-cm chunks. Scrape the skin off the ginger, then rinse and bash with the flat side of a cleaver.
Boil water in a clay pot and add the duck, winter melon chunks and ginger. Bring to a boil and then turn down to a simmer for one hour. Remove any scum. Season to taste. Keep warm. Serve garnished with a few coriander leaves.
Duck carcass? Absolutely. This soup stems from a frugal tradition. We used to go out for occasional treats to restaurants serving Peking duck. After enjoying most of the skin and meat, it is a common practice to take home the duck carcass for soup.
Long slow simmering with winter melon makes the duck live again for another day.
If you don't have a habit of dining out on Peking duck, visit your favorite Chinese barbecue shop and ask for roast duck offcuts, like necks, legs and webs. There is an enormous amount of flavor left in these. Or buy half a duck.
Duck is a favorite summer meat, because it is considered "cooling", according to traditional Chinese medicine principles. Winter melon, too, is considered a light diuretic.
Most Popular