A man of taste
Share - WeChat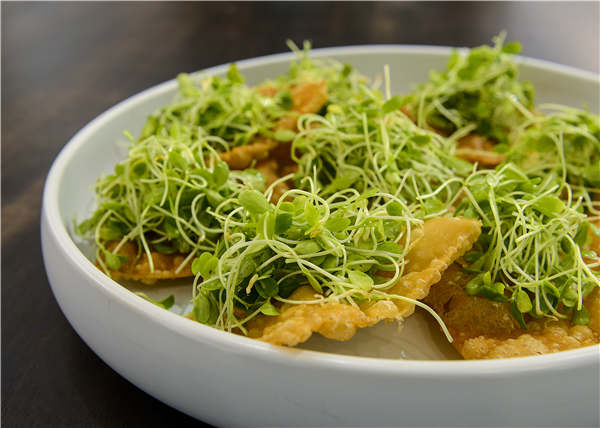 Young chef's new restaurant in Beijing offers patrons food without a formal menu. Li Yingxue reports.
When Zhang Zhicheng watched Japanese cartoon Cooking Master Boy for the first time, he knew that he was going to be a chef one day.
"You could feel the pride of being a chef," Zhang says.
"Like in the cartoon the young master chef is shining under golden lights."
Despite having seen it dozens of times, and been working the kitchen for more than 10 years, the 25-year-old chef still watches the cartoon in his spare time.
Last year, Zhang opened a new restaurant named Yanjintang, located at a quadrangle courtyard in Beijing. He only serves one table of up to 10 people each day and doesn't have a menu, so the guests walk in without knowing what they are going to get to eat. Plus, they have to book one month in advance.
"I always want to make something new and I'm always learning about new dishes," says Zhang. "There is so much to learn about Chinese cuisine."
For the first couple of months since opening, Zhang has cooked more than 500 different dishes for his clients. When each dish is served, Zhang explains to his diners what ingredients he uses and how he cooks the dish, then, spontaneously, thinks of a name.
"That's part of the reason I don't have a menu - the names of the dishes are just improvisation," he notes.
Zhang first tried to cook when he was in elementary school. One day his grandmother was angry that he did not finish his homework, so she did not cook for him.
Zhang remembered that his father had once showed him how to make egg fried rice, so he just picked up the pot.
What captured Zhang's imagination was the process of seasoning the fried rice.
Most Popular