A place where treats are truly sweet
Share - WeChat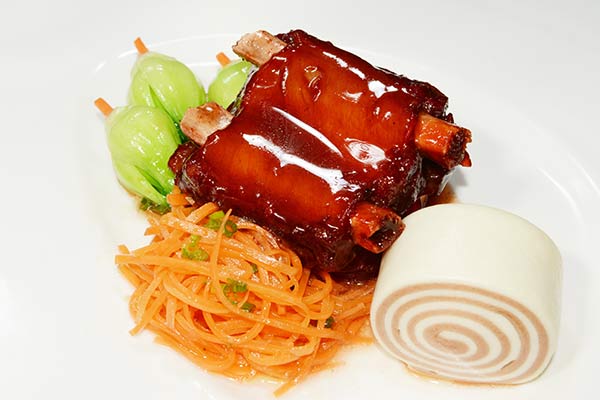 The one feature of Wuxi food that distinguishes it from other cuisines in the Yangtze River Delta region is its sweetness.
According to Zhou Guoliang, vice-president of the Wuxi Food and Beverage Industry Association, this unique feature could be due to a variety of reasons, including people's belief that adding sugar helps to enhance the taste of local specialties such as braised pork ribs, deep-fried crispy eel and fried gluten. He notes that as Wuxi sees frequent rainfall, locals also like seeking comfort in a bowl of hot, sweet soup.
"No one knows the exact reason behind this sweetness in our food, but I'm guessing that it is partly because people traditionally view the consumption of sugar as a means to recover energy after a long day of work," says Zhou, who has been working in the culinary industry since 1978.
"In the past, only rich families could afford to consume sugar, so sweetness also represents property in our culinary culture. Sweetness in Chinese culture also signifies happiness, so these could all be reasons."
The main characteristic of regional cuisine is that it is always closely related to an area's climate and geography, adds Zhou. As a place that has many waterways, freshwater aquaculture, such as the famous "three whites"-white shrimp, white fish and silver fish-are a staple in Wuxi cuisine.
Zhou, who is also a master chef and the inheritor of Wuxi cuisine, always seeks to highlight the freshness and taste of the ingredients by avoiding the addition of too much seasoning.
"We usually stew and steam as these cooking methods allow us to retain the original flavors of the three types of aquaculture. The only things we add are salt, rice liquor and scallions," says Zhou, who is the executive chef of Wuxi Grand Hotel.
Zhou's signature dishes at the hotel's Chinese restaurant include steamed white fish with liquor and ham, dumplings using the "three whites" and fried shrimp. Aquaculture aside, his Wuxi pork ribs and steamed dumplings (Wuxi xiaolongbao), which taste much sweeter than their Shanghai counterparts, are also popular among customers.
Most Popular