Istanbul celebrates Lunar New Year with Chinese food festival
Share - WeChat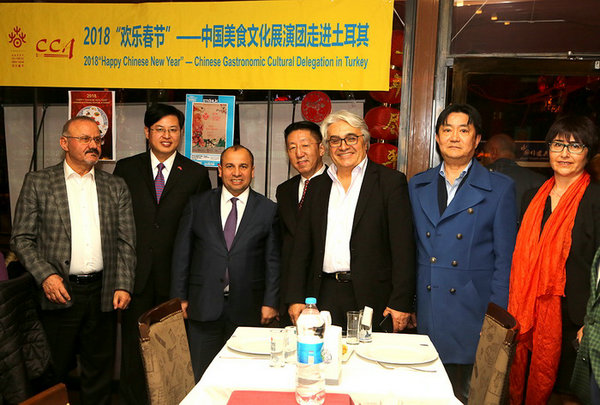 On Thursday evening, the Sampling Chinese Cuisine in Istanbul, food festival was held in the Turkish city as one of the 2018 Happy Chinese New Year events initiated by China's Ministry of Culture.
Zhong Hongnuo, Chinese consul general in Istanbul and Bian Jiang, deputy director of the Chinese Cuisine Association, attended the event, along with over 100 Turkish officials and guests.
Zhong said at the event that under the framework of the Belt and Road Initiative, there is a huge space for cooperation between China and Turkey and gastronomic cultural exchanges can bring the two peoples closer.
Nine chefs of the Chinese gastronomic cultural delegation carefully prepared many Chinese delicacies for the event, including Gongbao prawn balls and braised lamb chops. They also offered guests oranges engraved with the Chinese character fu, meaning "blessing".
On Feb 2, the Chinese gastronomic cultural delegation visited four universities in Istanbul, where they taught gastronomy majors to make hot candied potatoes and dumplings.
As a part of the 2018 Happy New Year celebrations held in Turkey, the delegation will pay a visit to Ankara. There they will hold another Chinese food festival at the Sheraton Hotel and organize lectures at local universities to promote Chinese gastronomic culture.
Most Popular