Designer brings solar calendar to life
Share - WeChat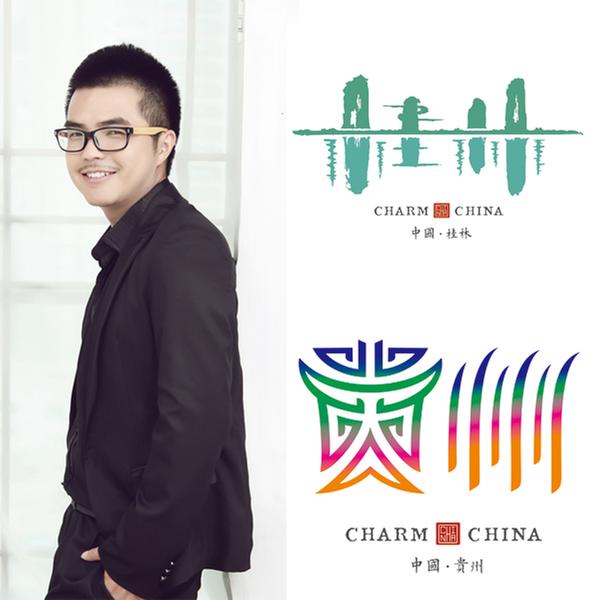 Shi Changhong and the China's regional logos [Photo provided to chinadaily.com.cn]
Born in the Qiandong Village, Liping county of Guizhou province, Shi is a member of the Dong ethnic group. When he was a child, everything around him, from hats and shoes to daily necessities and embroidery, was embedded with strong ethnic flavors. Heavily influenced by what he constantly sees and hears, Shi developed his interest in designing pictures and was responsible for updating the school notice board during high school.
In 2004, he was admitted to Guizhou Normal University and majored in graphics design as a college student, laying a theoretic foundation for his future career. After graduation, Shi chose to join the Guizhou Sunshine Brand Design Company and became a professional designer.
In 2011, he created two artistic Chinese characters "Guilin" for the city of the same name in Guangxi Zhuang autonomous region to win a competition. His initial success prompted him to produce many other Chinese regional logos in following years.
He first gained public attention in September last year, when he released the full set of Chinese regions to celebrate the Chinese national holiday.
The experience of rising to internet fame has delivered some golden business opportunities.
Shi said that with investments from other business partners, he could have more ability to choose what direction to go in the future. The 12 zodiac signs and China's 56 ethnic groups are potential future projects.
"But I will not yield to the market and forget my original will," Shi said.
Nowadays, the idea of becoming an online celebrity has become popular in China and many normal people long to be part of this elite group, but Shi has his own priorities.
"I would like to be known as a persistent designer rather than an online celebrity. This is a controversial word for me as I am not gaining the attention by good luck, appealing outlook or media hype. My work is the best spokesman. In the future, I will continue to let them speak for me. Cease the struggle and cease life," Shi said with a smile.
Related
A walking encyclopedia of natural history
Most Popular