Xi backs building of polar Silk Road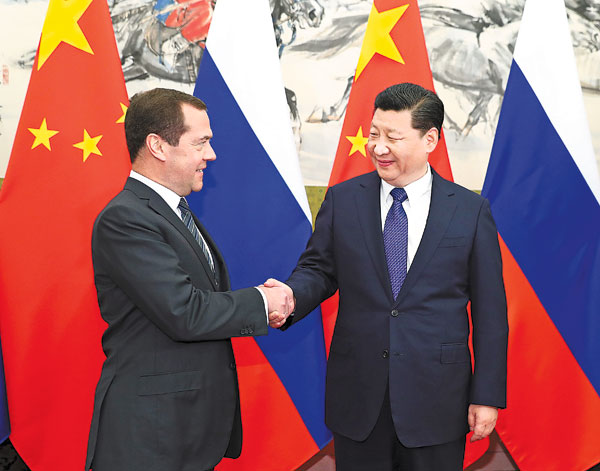 President Xi Jinping greets visiting Russian Prime Minister Dmitry Medvedev at the Diaoyutai State Guesthouse in Beijing on Wednesday. Medvedev is on a three-day official visit.XIE HUANCHI / XINHUA
President supports nation's joint development of Arctic with Russia
China and Russia should jointly develop and cooperate on the use of the North Polar sea route and build a Silk Road on the ice, President Xi Jinping told visiting Russian Prime Minister Dmitry Medvedev on Wednesday.
Close to 20 bilateral cooperative documents were signed on Wednesday in fields such as investment, energy, aerospace and finance.
Russia is China's largest neighbor, and China's clear goals and firm determination to develop and deepen China-Russia relations will not change, Xi said.
Medvedev is on an official visit to China from Tuesday to Thursday and co-chaired with Premier Li Keqiang the 22nd China-Russia Prime Ministers' Regular Meeting on Wednesday.
He arrived in Beijing only a week after the conclusion of the 19th National Congress of the Communist Party of China, which saw the election of the Party's new leadership.
Medvedev gave his congratulations on the successful conclusion of the Party congress as well as Xi's re-election as general secretary of the CPC Central Committee.
Russia is satisfied with the bilateral cooperation carried out since Xi's visit to Russia in July and is ready to reinforce the exchange of views and cooperation regarding international and regional affairs, he said.
Xi said the China-Russia comprehensive strategic partnership of coordination, which is at a new starting point, will grasp new opportunities and achieve new results.
Both countries should ensure the good synergy of the Belt and Road Initiative with the Eurasian Economic Union, and better implement projects such as a coastal international transport corridor, Xi said.
On Wednesday, Premier Li Keqiang said at a joint news conference after meeting with Medvedev that Russia's Far East, like central and western China, has huge potential for development and growth.
China and Russia's strengthening cooperation in developing the Far East will introduce new opportunities for cooperation and prove mutually beneficial, Li said.
Feng Yujun, a professor of Russian studies at Fudan University in Shanghai, noted that the recent frequency of high-level contacts between the two countries, including Xi's phone conversation with Russian President Vladimir Putin last week, shows Russia's lasting focus and need for China and its market and capital.
Since the world's efforts in developing Arctic shipping routes are at an initial stage, China and Russia are showing long-term vision in developing the Silk Road on the ice, Feng said.
Both countries share the need to diversify routes for shipping globally, and Russia, next to the Arctic Ocean, has some natural advantages in exploring the polar region, Feng said.
Contact the writers at zhangyunbi@chinadaily.com.cn
Related Editorial: Good China-Russia ties benefit world stability