New Evonik R&D center focuses more on product development
By Zhuan Ti ( China Daily )
Updated: 2013-11-21 07:12:36
Following two years of construction, chemical giant Evonik Industries has unveiled its new research and development center in Xinzhuang, Shanghai, the third time it has expanded the R&D center since its establishment in 2004.
Requiring a total investment of 23 million euros ($31 million), the new five-story R&D building houses 50 standard labs along with conference facilities and a showroom demonstrating Evonik's diverse products and solutions.
It is also the first LEED-certified building for Evonik worldwide.
Short for Leadership in Energy & Environmental Design, the designation certifies the building meets standards for green buildings developed by the US Green Building Council.
"In order to strengthen our position as a leading global specialty chemicals company, Evonik places so much emphasis on innovation, particularly in China," Patrik Wohlhauser, executive board member of Evonik Industries AG, said at the opening ceremony.
"Ultimately, our goal is to offer customers tailored solutions for their own markets and specific needs."
High capability in innovation is vital for Evonik as "it drives profitable growth and strengthens its position as a market and technology leader", said Wohlhauser.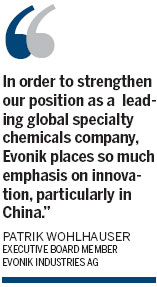 In addition to its application technology labs at several sites, he said the center in Shanghai plays a key role in Evonik's global R&D strategy.
"Creating innovative products and solutions that satisfy changing customer needs is at the core of our business. With the expansion, we are strengthening local R&D capacity by expanding our activities from technical services to product development," said Hans-Josef Ritzert, president of Evonik Greater China region.
After the expansion, the Shanghai R&D center is able to develop product applications and provide technology services for customers in Asia.
In addition, a wide variety of Evonik products are used in the new R&D building, ranging from its external walls, roof and toilets to interior decorations.
The approach is to make the building a tangible example showing how Evonik products and solutions can be put into specific use.
The show room on the ground floor uses plenty of its patented Plexiglas products - acrylic polymer sheets for the walls, product display compartments, signs and lighting.
Evonik has been stepping up R&D in Asian growth markets for years to help strengthen its competitiveness for customers in the region through research and application technologies tailored to local needs.
With the establishment of a biotech center and an analytic center in the new R&D building, Evonik aims to strengthen its basic research competency in Asia.
The biotech center is responsible for the evaluation of technologies, research cooperation with Chinese partners, technology scale-up and commercialization for the Chinese market.
About Evonik
Germany-headquartered Evonik Industries is one of the world leaders in specialty chemicals.
Highlighting both profitable growth and sustained development, Evonik is active in more than 100 countries around the world.
In the 2012 fiscal year, its more than 33,000 employees generated sales of around 13.4 billion euros ($18 billion) and an operating profit of about 2.4 billion euros ($3.2 billion).
Evonik has been producing specialty chemical products in China since the late 1970s and had trading relations in place before that.
Evonik regards China as one of the driving forces of its global economy. The company now has around 3,500 employees in China with sales of more than 1 billion euros (8.23 billion yuan) in 2012.
zhuanti@chinadaily.com.cn

Gear change
'Sustainable development', 'decisive role for markets' are the new buzzwords for Chinese economy.