President gets preview tour of pavilion
Astana Expo 2017 will begin in Kazakh capital amid anticipation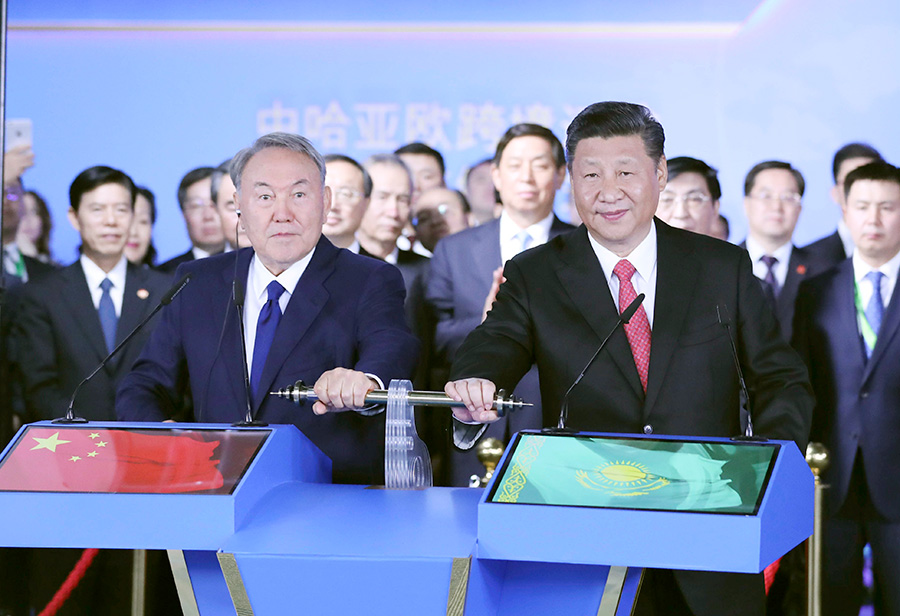 President Xi Jinping (R front) and his Kazakh counterpart Nursultan Nazarbayev (L front) inspect via videolink two key hubs of the cross-border transportation at the Chinese national pavilion of the Expo 2017 in Astana, Kazakhstan, June 8, 2017. Xi, accompanied by Nazarbayev, on Thursday visited the Chinese national pavilion of the Expo 2017 in Astana, and urged bilateral efforts to facilitate the China-Kazakhstan cross-border transportation. [Photo/Xinhua]
President Xi Jinping visited the China pavilion at the Astana Expo 2017 on Thursday, accompanied by Kazakh President Nursultan Nazarbayev during his state visit to the Central Asian country.
At the pavilion, the two presidents watched a video about the China-proposed Belt and Road Initiative. They also had a look at exhibitions featuring intelligent energy of the future.
The China pavilion, covering an area of 1,000 square meters, focuses on energy of the future and presents the Belt and Road Initiative to global visitors.
Wang Jinzhen, vice-chairman of the China Council for the Promotion of International Trade, said the energy theme reflects China's ideas and practical implementation regarding the most effective use of traditional energy and the development of renewable energy sources.
The organizing committee of the China pavilion, approved by the State Council and led by the international trade council and National Energy Administration, was in charge of preparing and managing China's participation in the expo.
China included in the pavilion models of clean energy projects and equipment as well as a simulator cockpit of a high-speed train.
Domestic energy and power giants such as China National Petroleum Corp and the State Grid also are taking part in the expo's core exhibition, in which high-end technological achievements in fields such as extra-high voltage, solar energy, nuclear energy and wind energy are displayed and demonstrated via 3D movies, multimedia presentations and virtual reality technologies.