Silk Road porcelain art show fires up in Berlin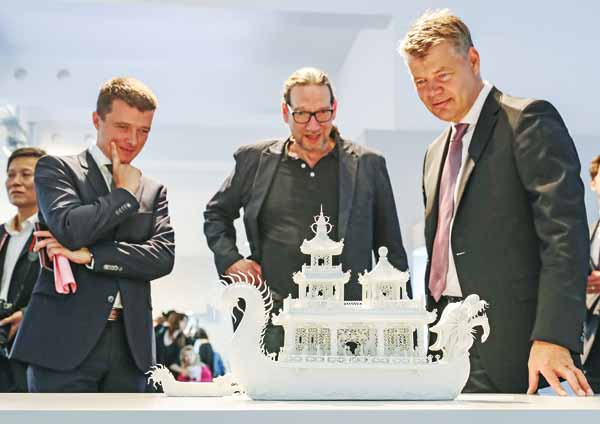 Visitors check out a porcelain dragon ship at the Porcelain and Ceramics of Jingdezhen exhibition in Berlin. [Photo/Xinhua]
More than 100 pieces of rare Chinese porcelain are on display at Berlin's KPM Royal Porcelain Factory this week, dazzling a local audience with their refined designs, beautiful colors and intricate craftsmanship.
The exhibition, which runs until Saturday, includes porcelain bowls, vases, and other artworks, such as a porcelain boat, peacock, and necklaces. Visitors can also see a live demonstration of porcelain making.
Zhong Zhisheng, Party chief of Jingdezhen, an area in Jiangxi province famous for its porcelain-making history, said: "Porcelain is an important ambassador of Chinese culture internationally, a witness to Chinese and Western cultural integration and a bridge to the friendship between China and the world."
The exhibition, Porcelain and Ceramics of Jingdezhen, was organized by China's State Council Information Office and the Chinese embassy in Germany.
The exhibition is accompanied by musical performances using instruments made from porcelain.
The exhibition is part of a collection of exhibitions staged in Germany focusing on Chinese culture. Others include an exhibition on Chinese figurative paintings, an exhibition about pandas, concerts featuring Chinese dance and music, and a Chinese lantern display.
Porcelain products are already very familiar to international audiences. From the 16th century, Chinese porcelain was exported to Europe and has been manufactured in Europe since around 1700. It was also one of the Chinese exports that spread via trade routes such as the Silk Road.
Ferdinand von Richthofen, a famous 19th century German explorer, who was also a professor of geography at the University of Berlin, was one of the first people to coin the concept of the Silk Road, which he wrote in his book China: The Results of My Travels and the Studies Based Thereon.
In 1869, von Richthofen visited Jingdezhen to study porcelain, giving the exhibition in Berlin a particular significance, said Zhong.
Jorg Woltmann, CEO of KPM Royal Porcelain Factory, said porcelain from China's Jingdezhen spread along the ancient Silk Road to Europe.
"It brought economic prosperity, and brought cultural understanding, leaving a legacy of many moving stories and friendships."
Zhong also presented KPM Royal Porcelain Factory with a documentary film about the history of Chinese porcelain.