Panda mania hits Berlin as cuddly envoys arrive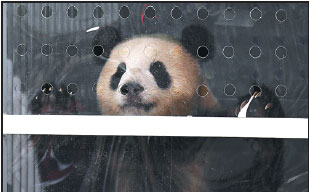 Giant panda Meng Meng looks out of her container after arriving in Germany from China on Saturday. Meng Meng and her companion Jiao Qing will be presented to the public at Berlin Zoo on July 6. Provided By Associated Press
BERLIN - Germany was bracing for panda mania as two furry ambassadors arrived from China on Saturday, destined for a new life as stars of Berlin's premier zoo.
The pair, named Meng Meng and Jiao Qing, flew in on a special Lufthansa cargo plane, accompanied by two Chinese panda specialists, the Berlin Zoo's chief vet and a ton of bamboo.
After a long trip the new zoo stars were greeted by Chinese Ambassador to Germany Shi Mingde and Berlin Mayor Michael Mueller.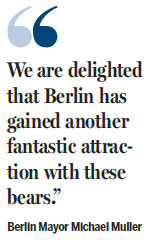 "This year marks the 45th anniversary of the establishment of diplomatic ties between China and Germany. I wish that the pandas as the 'ambassador of friendship' would be adored by German people," Shi said while greeting the pandas at the airport.
"We are delighted that Berlin has gained another fantastic attraction with these bears," Mueller added.
After just over a week's acclimatization, they will be unveiled to the public by Chancellor Angela Merkel and Chinese President Xi Jinping, most likely two days before the G20 summit of world leaders hosted by Germany.
Germany and China have nurtured increasingly close economic ties, and over the last year have also taken on the leading role in championing free trade as President Donald Trump shifts the United States away from market liberalization with his "America First" push.
The excitement over the pandas was evident in the run-up to their arrival, with the zoo publishing a daily blog about the pair.
The 12 hour, 20 minute journey to Germany was carefully prepared, with "bamboo snacks" to keep the pandas happy and absorbent mats to ensure the transport box stays dry and odorless.
And their new home at Berlin's zoo will measure about 5,500 square meters and comes fitted with a wooded climbing area and an artificial stream.
Meng Meng means "dream" in Chinese, while Jiao Qing translates as "darling", though the Chinese characters are a composite of "tender" and "festive" or "celebration".
And the pandas' main dish - bamboo - will cost tens of thousands of dollars each year.
The zoo will look to offset part of its outlays through merchandising.
China has previously given three pandas to Germany, but the last one, 34-year-old Bao Bao, died in Berlin in 2012, having become the oldest male panda in the world.
Afp - Xinhua