Pianos take central position in local's lifestyles, interests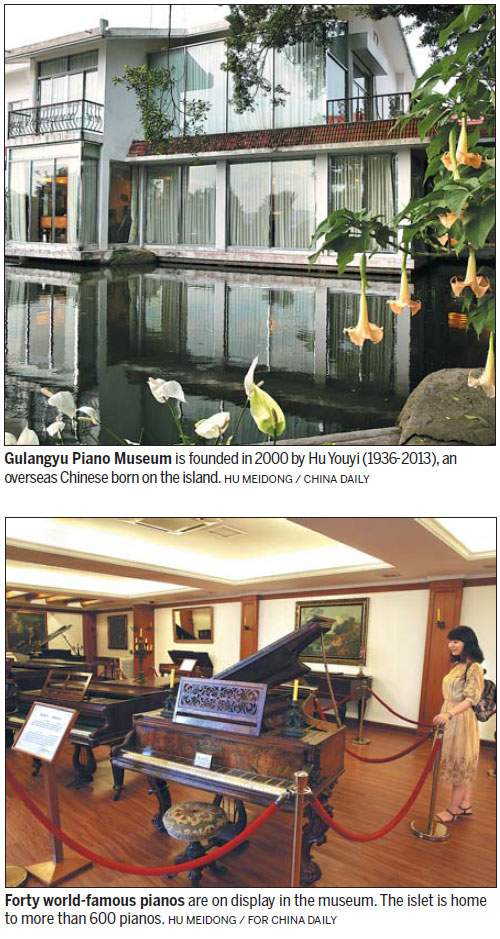 Gulangyu Island is a miniature of cultured lifestyles in China, an isolated islet where people retreat from convention and competition.
Known as Kulangsu in the local dialect, the island covers only 1.88 square kilometers but is home to more than 600 pianos.
Classical music and art is a key part of the lifestyle. The island ranks No 1 in China in terms of the average ownership of pianos per family, as one in three families on the island has a piano.
In China's modern pianist circles, some young performers who have been granted prestigious awards were criticized due to their arrogance, pursuit of luxurious products and exposure in commercial advertisements, and even for personal scandals.
When voicing their concerns, commentators often remind people of renowned pianist Xu Feiping (1952-2001).
Known as a true musician, Xu was silent, graceful and only dedicated to music. The life experience and artistic success of the "Son of Gulangyu Island" prove the high cultural taste and artistic pursuit of the islet.
He was a gold medal winner of the Arthur Rubinstein International Piano Competition, the first Chinese pianist to enter the competition.
Xu also gained top prizes in many other international competitions, including the Gina Bachauer Memorial Piano Scholarship Competition, the University of Maryland International Piano Competition, and the Paloma O'Shea International Piano Competition.
He received a number of laurels from global musical circles and gained acclaim among international media outlets.
The New York Times described Xu as "a fully developed performer of particular ability", adding that "he hit the elusive combination of fire and delicacy".
The Washington Post said he played with "a commanding athleticism born of grace and agility".
Xu died in a car incident in 2001.
His father was a pastor in a Christian church and the human voice was the first instrument he heard. His mother played the piano for church services, and when Xu was 5 years old he began to imitate her at the keyboard. His brothers, Xu Feini and Xu Feixing, are also musicians.
His skill and career path were associated with the graceful cultural identity of Gulangyu, where many view the instrument as a key element of the local lifestyle since before the founding of the People's Republic of China.
In addition to Xu Feiping, a number of leading Chinese musicians were born or have family connections on the island, including Zhou Shu'an, China's first female vocal music commander, Lin Junqing, former head of the Shanghai Vocal Music Research Institute, and a string of China's top musicians such as Li Jialu, Chen Zuohuang and Zhuo Yilong.
Xu appreciated the old, famous pianos at the Piano Museum on the island, which were donated in 2000 at its founding by Hu Youyi (1936-2013), an overseas Chinese born on the island.
In 1974, he bought the first piano and in the following years Hu scoured Asia, Europe and Americas in search of famous pianos, following stringent standards for preservation, technology and which musicians had played them.
Eventually he founded the museum and donated 100 valuable pianos to it, forming the largest collection of the world's most prestigious pianos.
Currently, 40 of them are on display over an area of 450 square meters.
According to Hu's wife, Huang Yulian, he used all of his wealth to found the museum. After the piano museum, an organ museum was also set up on the island. Hu again donated 40 pieces from his collection to the project.
He said: "As a 'son of Gulangyu', the organ museum is my "last dream and plan" in life."