Language learning in demand as ties grow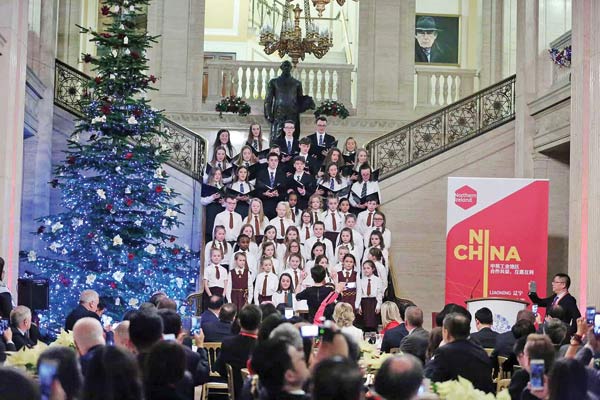 A choir of schoolchildren from Northern Ireland sings Chinese songs in Belfast's Parliament Buildings on Friday.  [Photo/China Daily]
A group of Northern Ireland schoolchildren warmed the hearts of Chinese guests on a cold December day when they performed Chinese songs. The children had rehearsed for six weeks, with the help of Mandarin teachers from the University of Ulster's Confucius Institute.
The performance on Friday, inside Belfast's elegant and historic Parliament Buildings, preceded a welcome dinner ahead of the third UK-China Regional Leaders Meeting on Saturday that was attended by more than 100 provincial and municipal leaders from China. As trade relations between China and Northern Ireland grow, Mandarin has become more popular in the province. Friday's performance was given by children from Millburn Primary School and Grosvenor Grammar School, which both offer Mandarin lessons, thanks to the local Confucius Institute that was established in 2012. From its start five years ago, which saw two Mandarin teachers support 169 students, the University of Ulster's Confucius Institute has grown to comprise 51 teachers and 19,000 registered students. A quarter of the institute's 161 partner primary and secondary schools have made Mandarin learning compulsory for certain age groups. And students also gain exposure to Chinese culture, including calligraphy and music.
"Our Confucius Institute was established partly in response to existing demand from schools," said Liu Yan, director of the University of Ulster's Confucius Institute. While preparing to open the institute, her team sent out a survey to 1,241 primary and secondary schools in Northern Ireland. Around 500 responded by saying they would like to off er Mandarin lessons.
The Chinese government launched the Confucius Institute concept in 2004 as a way of promoting the Chinese language and culture abroad. Confucius Institutes are nonprofi t organizations and are affiliated with Western academic institutions, including secondary schools and universities. So far, 516 Confucius Institutes have been established in 142 countries and regions.