Indonesia extends Bali airport closure due to Agung eruption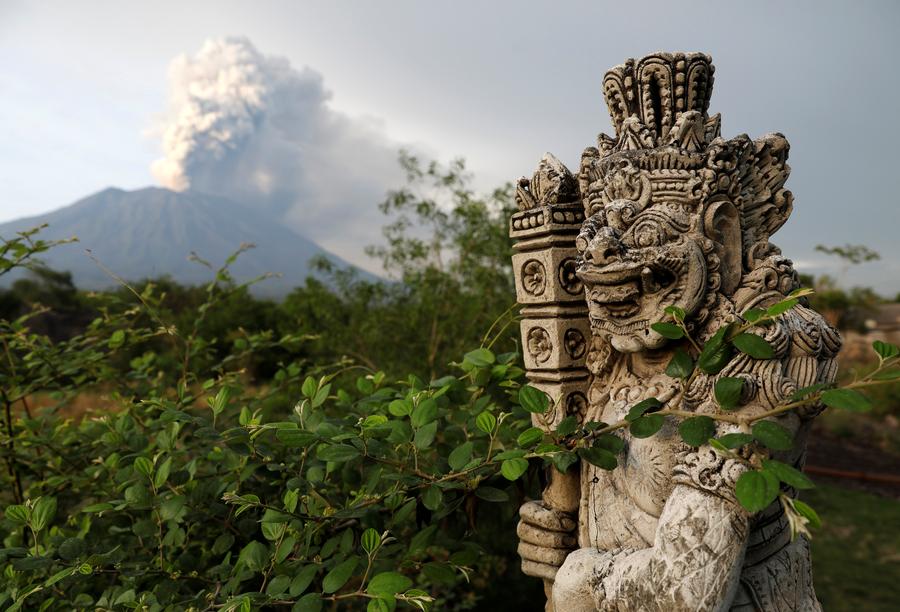 Astatue on a bridge is seen as Mount Agung volcano erupts in the background near Kubu, Karangasem Regency, Bali, Indonesia, November 28, 2017. [Photo/Agencies]
On Tuesday, life continued largely as normal in villages surrounding Agung, with residents setting up traditional markets and offering prayers as the volcano continued to spew tall columns of ash and smoke from its crater.
Many residents evacuated in September when the alert was last raised to the highest level have returned to their homes and farms due to worries over their livelihood and livestock.
Indonesia's Volcanology and Geological Disaster Mitigation Centre (PVMBG), which is using drones, satellite imagery and other equipment, said predictions were difficult in the absence of instrumental recordings from the last eruption 54 years ago.
It warned that if a similar eruption occurred, it could send rocks bigger than fist-size up to 8 km (5 miles) from the summit and volcanic gas a distance of 10 km (6 miles) within three minutes.
Recordings now show the northeast area of Agung's peak has swollen in recent weeks "indicating there is fairly strong pressure toward the surface", PVMBG said.
Reuters