Yorkshire enjoys tourism boom thanks to pop star's wedding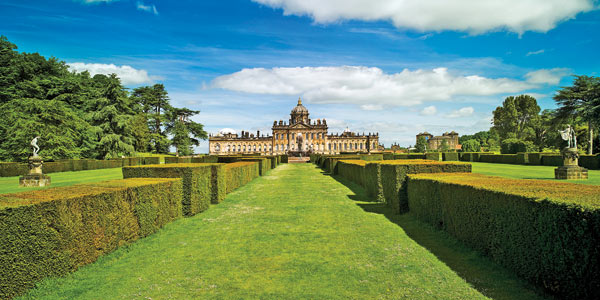 Castle Howard and gardens is now firmly on the map among Chinese tourists. [China Daily]
On a cold November afternoon, three young women from China huddle in front of one of the grandest stately homes in England, debating which selfies they should upload to Weibo.
The 300-year-old Castle Howard in the northern county of North Yorkshire makes a great backdrop for their photos, but the building's history is not the reason they are visiting. They want to walk the same soil as the "king of Asian pop" Jay Chou, who held his wedding reception there nearly three years ago.
"We have a week of vacation and we knew that Jay Chou was married here so we wanted to come and see it," said Guo Yidan, a 21-year-old Southampton University student from Beijing. "We are all fans."
Guo and her friends are among thousands of Chinese travelers who have made the journey to Yorkshire since Chou wed Australian actress Hannah Quinlivan in January 2015. Hotels and attractions in the area have had to adapt, to ensure Chinese visitors enjoy their time in the area.
Sharp increase
The year before the wedding, Castle Howard received visits from four Chinese tour coaches. The number increased to 293 in 2015, and 650 so far this year.
"The idea of being in a room where Jay Chou was, and to take a photo of where he would have been, causes particular excitement for the young girls that come here," said Castle Howard travel sales manager Kim Green.
Castle Howard sits amid 405 hectares of gardens, lakes and hunting grounds, 25 kilometers northeast of the city of York. The ornate domed building is still occupied by members of the Howard family, whose ancestor, Catherine, was beheaded in 1542 on the orders of her husband, King Henry VIII.
Since the influx of Chinese tourists began, the Howards have sorted through their vaults in order to decorate the halls with ceramics and other Chinese artifacts collected hundreds of years ago by family members who travelled the Silk Road trade route.
The estate's marketing team has set up WeChat and Weibo pages to promote the estate in China, and the visitor cafe has altered its menu to better serve the Chinese palette.
"We weren't at all prepared for the increase in Chinese visitors," said Castle Howard group sales manager Rachel Underwood. "All of a sudden, we had to research what they want, what they look for, and have all of our maps and literature translated."
Historic city
Nearby York has experienced a sharp upturn in the number of Chinese visitors since Chou's wedding. In 2014, Chinese visitors were ranked 19th among the city's international visitors, in 2016 they were second only to those from the United States. More than 21,000 Chinese tourists traveled to York last year, 9 percent of the population of overseas visitors.
Michelle Brown, marketing manager for promotional body Make it York, said new direct flights between China and the northern city of Manchester have greatly benefited the region's economy. Since Chinese carrier Hainan Airlines launched its route between Beijing and Manchester in 2016, the annual Chinese tourist spending in Northern England has doubled, to 138 million pounds ($181 million).
Tailoring products
Across York, dozens of businesses have taken steps to accommodate Chinese tourists. The Grand Hotel and Spa has trained staff in basic Mandarin and its bar and restaurant menus include QR codes that visitors can scan to generate Chinese translations.
York's Chocolate Story, a chocolate factory and museum that tells the story of the city's ties to the confectionery industry, plans to introduce Chinese audio guides.
"Over the summer, we had quite a few Chinese groups in, so we decided to make matcha green tea and matcha green tea and honey chocolates," said chocolatier Chelsea Taylor. "We made a batch of 200 and they were gone in a week."
Following the Chou wedding, Make it York enlisted volunteer Will Zhuang to promote the city on Chinese social media.
He said the challenge will be to maintain visitor numbers if and when the novelty of the Chou link wears off. Zhuang said the area's cultural heritage remains largely unknown among Chinese travelers.
Viking past
"We have to promote other attractions outside of Castle Howard, because the halo of Jay Chou will disappear very soon, people will gradually forget about it," Zhuang said."We have to promote things like the Viking history. A lot of Chinese people only associate Vikings with Northern Europe and aren't aware there were large settlements in this area."
During the last 40 years, several archaeological digs in York have unearthed sections of a vast 9th century Viking settlement, six meters below street level. The Jorvik Viking Centre is one of York's most popular attractions among domestic tourists, but few Chinese people visit it. While almost one in 10 overseas visitors to York is from China, only 1 percent of the Viking center's international visitors are Chinese.
"The Vikings are not a huge part of what the Chinese are coming to York for. We are very much a secondary attraction to them," said Paul Whiting, marketing manager at Jorvik Viking Centre.
Whiting does anticipate an increase in Chinese visitors because the center is in the middle of a promotional campaign, and has recently launched an audio tour in Mandarin.
"The translation was a technical challenge because some of the words are unfamiliar," Whiting said. "There isn't a Mandarin word for 'Viking', so we had to go with 'pirate', which I suppose is close enough."
A VisitBritain study released this year found that Chinese tourists rate the UK's cultural heritage among the highest motivating factors for a visit. Zhuang said York's history will be key to its future success in China.
"If we spread the word about the city's heritage and show what York has to offer, it will be a must-see destination for all Chinese tourists in the UK, not just the fans of a pop star," Zhuang said.