China, US should further open up to each other: premier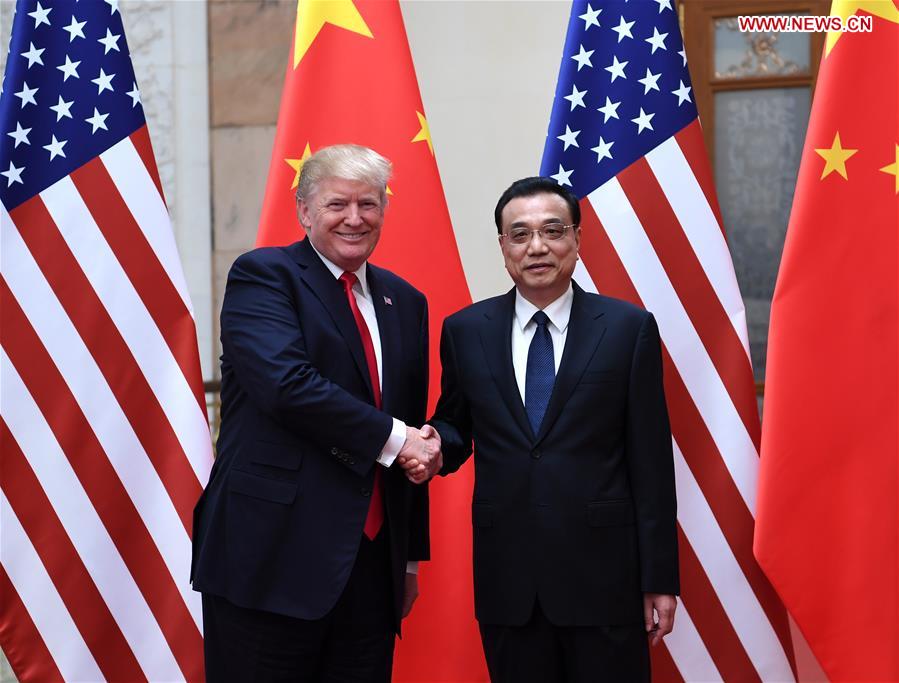 Chinese Premier Li Keqiang (R) meets with US President Donald Trump at the Great Hall of the People in Beijing, capital of China, Nov 9, 2017. [Photo/Xinhua]
BEIJING - Chinese Premier Li Keqiang met with visiting US President Donald Trump Thursday, saying the two countries should further open up to each other and create a fair business environment for their companies.
Trump arrived in Beijing Wednesday afternoon for a three-day state visit to China, and held talks with Chinese President Xi Jinping early Thursday.
Li said the talks were "fruitful," with important consensus reached on plans for bilateral cooperation.
"By maintaining high-level exchanges and close communication, the two countries will inject new impetus into their cooperation and push their relations to a new level," he said.
The Sino-US relations were moving forward steadily, the premier said, noting that a pattern of economic cooperation with deeply intertwined interests had been formed.
"The positive trend in the Chinese and US economies is good news for both countries and the rest of the world," Li said.
He told Trump that the two nations had huge potential for cooperation as China was the biggest developing country, with a vast market and rich human resources, while the United States was the biggest developed country, with advanced technology and experience.
"It is inevitable that there are differences and frictions, such as the trade deficit issue the US side is concerned about," Li said.