British PM May reacts to calls for her to quit Downing Street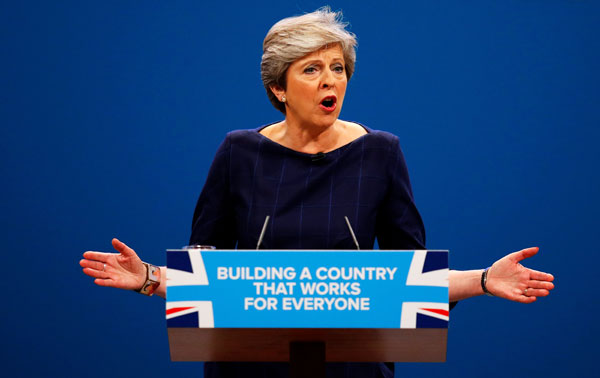 Britain's Prime Minister Theresa May addresses the Conservative Party conference in Manchester, October 4, 2017.[Photo/Agencies]
LONDON -- British Prime Minister Theresa May gave her first reaction Friday to a plot by a group of Conservative MPs to end her reign at 10 Downing Street.
Former minister and one-time party chairman Grant Shapps says around 30 MPs have backed his call for her to be replaced as leader and prime minister.
May said she has the full support of her cabinet, with the BBC quoting May as saying the country needed "calm leadership" adding: "That's what I'm providing."
The under-fire prime minister was facing a fight for her political life Friday Shapps emerged as a ringleader in the call for her to go.
The party's poor showing in the June snap election when May lost her overall majority in the House of Commons had already weakened her position.
But the fiasco of her disastrous speech at this week's party conference has placed a great threat to her continued leadership. May's coughing fits which continually interrupted her speech, a prankster breaching security to approach her on the conference platform with the conference backdrop falling apart making it a triple disaster played out live on television.
Shapps said in media interviews: "I believe Theresa May is very decent person and unfortunately fought an election that didn't work out. We've not really managed to see that relaunch.
"There's that sort of lack of discipline in the cabinet and party conference this week and I think a growing number of my colleagues realize the solution isn't to bury our heads in the sand and hope things will get better."
The big question now will be whether enough backbench Conservative MPs sign a letter calling for a leadership election. It would mean around 48 MPs, 15 percent of the total number in the House of Commons, having to back a challenge to May by saying they had lost confidence in her leadership.
Environment Secretary, and one time leadership contender Michael Gove, said May was doing a "fantastic job" as prime minister.