Russia open to both eastern and western partners: Putin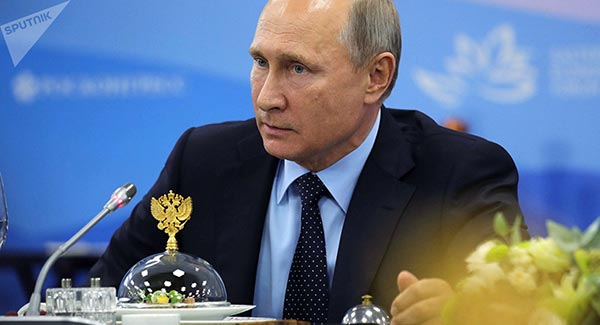 Russian President Vladimir Putin at the Eastern Economic Forum in Vladivostok, Russia, Sept 7, 2017. [Photo/sputniknews.com]
VLADIVOSTOK - Russia is willing to work together with partners from both sides of the Pacific across various spheres, Russian President Vladimir Putin said Thursday.
"We are open for deeper investment, trade and financial ties with all partners, both from the eastern and western coast of the Pacific Ocean, especially considering that investment opportunities in Russia's Far East are truly immense," Putin said at a plenary meeting of the Eastern Economic Forum in the Russian Pacific port city of Vladivostok.
The president ordered the government to work out additional sources of financing and managerial actions for comprehensive development of the country's Far East.
"I ask the government to work out the necessary managerial and organizational tools, to decide on additional sources of financing of tasks in the sphere of comprehensive development of the far eastern territories," the Russian leader said at the plenary session of the Eastern Economic Forum (EEF).
Russia is counting on the arrival of new investors, along with their capital and technology, to the country's Far East, Putin said, adding that those companies willing to explore global markets would receive Russia's full support.
"We won't be satisfied with what has already been achieved. We are working on [conditions to ensure] that aside from [already] launched projects, our new friends, our partners, investors would be coming to the Far East with their capital, technology, ideas. The Far East is indeed a unique combination of capabilities and competitive advantages for implementing ambitious projects. Preferential tax systems and comfortable administrative procedures are [among] those [advantages]," Putin said during a plenary meeting at the Eastern Economic Forum (EEF).
Russian authorities want to transform the country's Far East into one of the world's leading logistic hubs.
"To give businesses an opportunity to transport their produce quickly and cheaply between the Asia-Pacific region and Europe and to other regions, we are building new transport corridors and increasing cargo volumes of ports in the Far East. We are looking in detail at construction plans for a rail bridge to Sakhalin… All of this will help turn Russia's Far East into one of the world's crucial logistic hubs," Putin said.
The two-day EEF kicked off Wednesday, drawing over 3,500 participants from more than 50 countries. Several world leaders are attending, including President Putin, South Korean President Moon Jae-in, and Japanese Prime Minister Shinzo Abe.
sputniknews.com