Irma menaces Florida's Gulf Coast after striking Cuba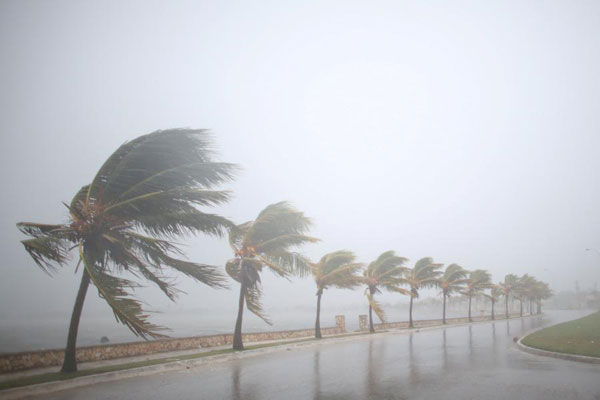 Palm trees sway in the wind prior to the arrival of the Hurricane Irma in Caibarien, Cuba, September 8, 2017. [Photo/Agencies]
THIRD OF FLORIDA
Officials in Florida have ordered a total of 6.3 million people, or about a third of the state's population, to evacuate, creating massive traffic jams on highways and bringing huge crowds to shelters set up around the state.
In Palm Beach, President Donald Trump's waterfront Mar-a-Lago estate was under evacuation order.
The outer band of Irma was already whipping south Florida with winds of more than 30 miles per hour (48 km/h) on Saturday, and the governor said thousands of people in the state were without power.
About 9 million people in Florida may lose power, some for weeks, said Florida Power & Light Co, which serves almost half of the state's 20.6 million residents.
The window for people in evacuation zones to flee was drawing to a close on Saturday morning, officials said, warning gas stations would soon be without fuel and bridges would be closed in some areas.
"You can't play chicken with this thing or try to outrun the storm," US Senator Marco Rubio of Florida said at a news conference. "The last thing you want to be is out there, on the road, trying to get away from the storm, as this thing is zig-zagging around."
Rubio acknowledged some people had fled their homes only to arrive in areas expected to be in the storm's path, but he advised people in that situation to hunker down.
That was the case for Chris Cargona, 54, and his wife Laurie, who left their mobile home near Miami on Thursday to seek refuge with friends near Tampa.
"Not only did we go west, but so did Irma. She's tracking us, that feisty minx," Cardona said by phone.
The United States has been hit by only three Category 5 storms since 1851, and Irma is far larger than the last one in 1992, Hurricane Andrew, according to the Federal Emergency Management Agency (FEMA).
Hurricane Irma could cause insured losses of between $15 billion and $50 billion in the United States, catastrophe modeling firm AIR Worldwide said on Saturday.