Protesters clash again in Virginia city ahead of white nationalist rally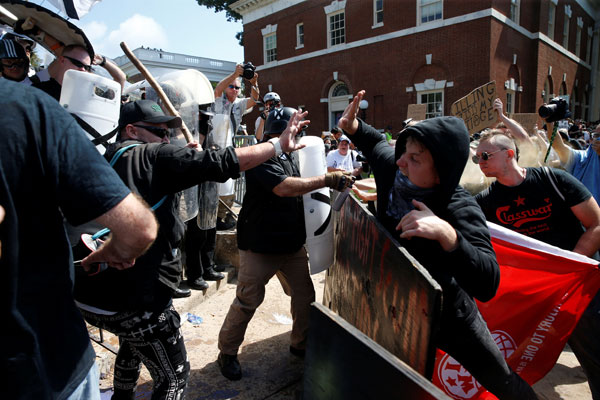 Members of white nationalists clash against a group of counter-protesters in Charlottesville, Virginia, US, August 12, 2017. [Photo/Agencies]
White nationalists clashed with counter-demonstrators in Charlottesville, Virginia, on Saturday ahead of a rally to protest the planned removal of a Confederate general's statue that critics say glorifies the era of slavery.
Fighting broke out in the city's downtown before noon when hundreds of people, some wearing white nationalist symbols and carrying Confederate battle flags, were confronted by a nearly equal number of counter-protesters. The clashes began the previous evening, resulting in at least one arrest.
Soon after the melee erupted, Virginia Governor Terry McAuliffe declared a state of emergency in the city, home of the University of Virginia's flagship campus. The gathering was declared an "unlawful assembly," allowing police to disperse the protesters.
Many of the combatants on both sides wore helmets and held shields, and some brandished wooden poles. Militia members in the city openly carried rifles, although no gunfire was reported.
"You will not erase us," chanted a crowd of white nationalists, while counter-protesters carried placards that read: "Nazi go home" and "Smash white supremacy."
After the crowd was dispersed, dozens of law enforcement officers clad in riot gear were seen patrolling the streets, with small clusters of protesters gathered in pockets in the surrounding streets.
Two people were injured in clashes on Saturday, Virginia State Police said on Twitter. Local law enforcement agencies could not be reached immediately for comment.
The clash unfolded ahead of the planned start of a "Unite the Right" rally that was expected to draw thousands of people who are angry at the planned removal of a statue of Confederate General Robert E. Lee from a public park.