US would like to have dialogue with DPRK at some point: US top diplomat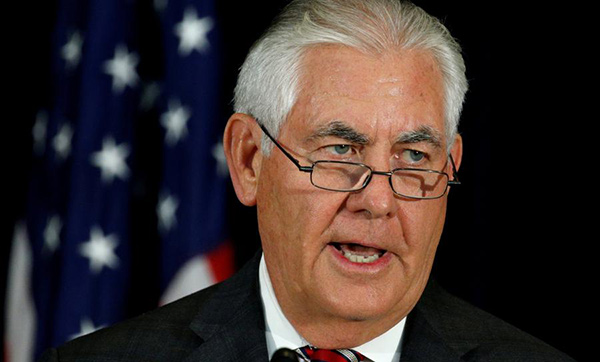 US Secretary of State Rex Tillerson speaks during a press conference after talks with Chinese diplomatic and defense chiefs at the State Department in Washington, US, June 21, 2017. [Photo/Agencies]
WASHINGTON - US Secretary of State Rex Tillerson said on Tuesday that the United States would like to have dialogue with the Democratic People's Republic of Korea (DPRK) at some point.
"We are not your enemy...but you are presenting an unacceptable threat to us, and we have to respond," said Tillerson here at a press conference. "We hope that at some point they will begin to understand that and we would like to sit and have a dialogue with them."
Tillerson also reiterated that the United States seeks neither a "regime change" nor "collapse of the regime" in the DPRK.
"We do not seek an accelerated reunification of the peninsula," Tillerson said. "We do not seek an excuse to send our military north of the 38th Parallel."
Tillerson's remarks came days after the DPRK launched its second intercontinental ballistic missile in a month.
The missile traveled about 1,000 kilometers before splashing down into the sea, Pentagon spokesman Jeff Davis said in a statement.
The DPRK said that the test-firing aimed to "finally confirm the overall technological specifications of the weapon system of Hwasong-14 capable of carrying large-sized heavy nuclear warhead, including its maximum range," according to the official Korean Central News Agency (KCNA).