Chinese ambassador gives BBC interview on 20th anniversary of Hong Kong handover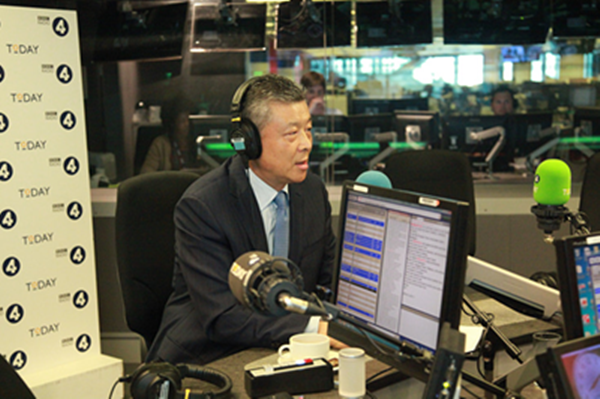 Chinese ambassador to the UK Liu Xiaoming gives an interview to BBC Radio 4's live broadcast Today program on June 29. [Provided to China Daily]
Chinese ambassador to the UK Liu Xiaoming shared his views on the progress and achievement of the Hong Kong SAR since its establishment 20 years ago and the success of "one country, two systems" policy during an interview on the Today program of BBC Radio 4 hosted by John Humphrys.
On Hong Kong, the ambassador said the "one country, two systems" has been implemented with great success. "I can't agree with some of the interviews aired just before me saying that China did not deliver its promises. As a matter of fact, the Central Government of China delivered everything it promises, that is 'one country, two systems'."
He said during the June 29 interview that basically Hong Kong has maintained its social, economic system, way of life, rule of law, and Hong Kong now is much better placed compared with 20 years ago. So this is really an occasion for the Chinese people to have a grand celebration.
"I think in the past 20 years we've seen Hong Kong maintaining prosperity and stability, the GDP doubled, and foreign exchange reserve quadrupled. Hong Kong still remains a global center of finance, trade and shipping. The life expectancy of its people increased tremendously," he said, adding that"they are ahead of many developed countries. So I would say people in Hong Kong are now living longer and living happier".
Addressing Humphrys' question on Hong Kong Special Administrative Region's chief executive election, Liu said the political governance of Hong Kong today, including democratic governance has made great progress compared with 20 years ago.
"When you say 'one country, two systems', I think some people forget that this is one framework. You have to remember that Hong Kong is part of China, not part of UK, and not a so-called independent entity," he stressed.
In the past 20 years there were 5 elections in Hong Kong. Hong Kong's chief executive is elected according to the Basic Law, according to the Election Law in Hong Kong.
"You have to achieve this through incremental, gradual process and step-by-step. As we say, Rome or maybe London is not built overnight and Hong Kong is not built overnight," the ambassador said.
Humphrys said there was a report by the BritishForeign office released in February last year criticizing the mainland of constituting serious breach of the Sino-British Joint Declaration by undermining the "one country, two systems" principle.
Liu reacted: "I think when you read the report, first of all, we disagree with this so-called Report on Hong Kong, which was published twice a year. We think Hong Kong is an integral part of China, and Hong Kong's affairs are internal affairs of China. It's not for foreign governments to interfere.
"Having said that, even with this report, the British government commends the Chinese government for implementing 'one country, two systems' and they believe 'one country, two systems' is a great success."
He added that"there are some differences between China and the UK but on the whole we all believe that long-term stability, long-term prosperity in Hong Kong are in the interests of not only China but also Britain and the international community".
On the question of China's rising international role, Liu said: "I do not foresee that China will become a superpower in the foreseeable future. I believe China is still a developing country.
"Even when China becomes the largest economy in the world, it will take a long way for China to become so-called superpower. China is a large country, and there are great differences between regions."
He noted that "we are interested in improving the livelihood of the people, and addressing the disparity between regions. When people look at China, they like to focus on the coastal region, the eastern part of China - Beijing, Shanghai, Guangdong. They are very much developed. For example Guandong is the 15th-largest economy in the world. It's about the size of Spain. But if you look at other provinces - Gansu, Ningxia, they are rather backward."