China calls on Pakistan, Afghanistan to improve ties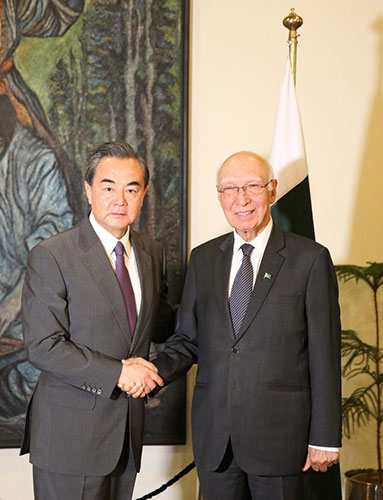 Visiting Foreign Minister Wang Yi (L) shakes hands with Pakistani top foreign affairs advisor Sartaj Aziz during their meeting in Islamabad, Pakistan, on June 24, 2017. [Photo/Xinhua]
ISLAMABAD - Visiting Chinese Foreign Minister Wang Yi said Saturday that tensions between Pakistan and Afghanistan are not conducive to their stability and development as well as regional cooperation, calling on both countries to meet each other halfway so as to improve bilateral ties.
Wang made the call during his meeting with Pakistani top foreign affairs advisor Sartaj Aziz. He said that Pakistan and Afghanistan should send the international community a positive signal that the two sides are willing to restore mutual trust and conduct cooperation through bilateral channels.
Wang also said that China supports the two sides in seeking to establish a crisis managing mechanism as quickly as possible so as to properly deal with contingencies and to form a trilateral meeting system among foreign ministers of China, Afghanistan and Pakistan in order to enhance dialogue and cooperation in all areas.
For his part, Aziz said that Pakistan is willing to intensify communication and improve relations with the Afghan side and to support the political reconciliation process in Afghanistan as these are in line with both countries' common interests.
The advisor said that the Pakistani side has made political and diplomatic efforts on the issue and is willing to activate relevant dialogue mechanisms and channels, adding that it requires the two sides to meet each other halfway.
He added that Pakistan is willing to form the trilateral foreign ministers meeting system and Pak-Afghan crisis managing mechanism through negotiations to enhance talks and cooperation and properly handle divergences.
On China-Pakistan ties, Wang said that Pakistan is China's all-weather strategic cooperative partner and the relationship is a unique one in China's foreign relations and is tested by history.
He added that China is willing to improve strategic communication and strengthen mutually beneficial cooperation with Pakistan in order to maintain the two countries' common interests.
The Chinese foreign minister highlighted that counter terrorism is an important content of bilateral relations and expressed thanks to the Pakistani side for its firm support for China's fight against the violent terrorist group the "East Turkistan Islamic Movement."
Wang also hailed Pakistan's important contribution to the international counter terrorism cause as it is in the frontline of global fight against terror.