Israeli PM warns Iran not to threaten Israel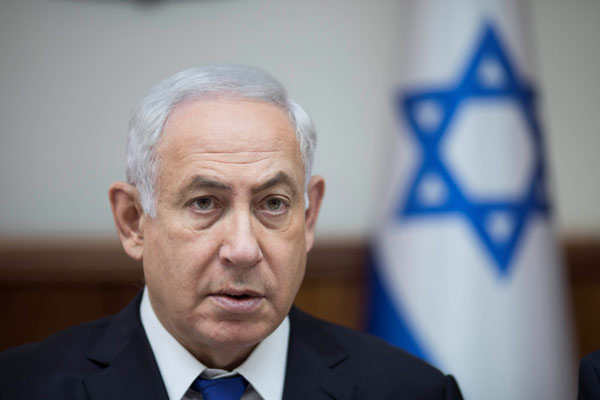 Israeli Prime Minister Benjamin Netanyahu attends the weekly cabinet meeting at his office in Jerusalem June 18, 2017. [Photo/Agencies]
JERUSALEM - Israeli Prime Minister Benjamin Netanyahu on Monday cautioned Iran not to threaten Israel after Tehran said it launched missiles at Islamic State (IS) targets in Syria.
"One message to Iran: Don't threaten Israel," Netanyahu said during a weekly meeting of his Likud faction.
Netanyahu, who has repeatedly claimed that Iran is threatening Israel, said Israel is following "their actions and we follow their words."
"The military and our security forces are constantly monitoring the activity of Iran in the region," Netanyahu said, according to a statement released by the Likud.
"This activity also includes their attempts to establish themselves in Syria and, of course, to transfer advanced weapons to Hezbollah and other operations," he said.
Netanyahu has been a vocal opponent of the 2015 nuclear deal with Iran, charging that Tehran is aiming to achieve nuclear weapons.
Earlier on Monday, Iran's Islamic Revolution Guards Corps (IRGC) announced that the Sunday attack on the "terrorists" in Syria's eastern region of Deir ez-Zor had been coordinated with the Syrian government.
Gen. Ramezan Sharif, head of the IRGC Public Relations Department, told Tasnim news agency that the IRGC fired six mid-range ballistic missiles at multiple targets, within a range of 650 to 700 km.
He confirmed that the missiles hit the targets, which included the headquarters, ammunition and logistic depots of IS operatives, saying "a large number of terrorists" were killed.
"The launch of these missiles had previously been coordinated with Syria and the missiles entered the Syrian airspace through Iraq," he was quoted as saying.
The attack came in the wake of a twin attack carried out by IS on Iran's Parliament and the Mausoleum of Ayatollah Ruhollah Khomeini in the capital Tehran on June 7, killing 17 and injuring dozens others.