Ex-NBA player Rodman expected to arrive in North Korea on Tuesday: Media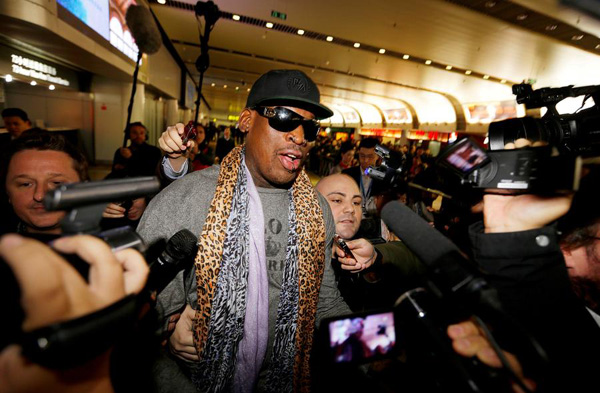 A file photo shows former NBA basketball player Dennis Rodman speaks to the media after returning from his trip to the Democratic People's Republic of Korea (DPRK) at Beijing airport, December 23, 2013. [Photo/Agencies]
WASHINGTON - Former National Basketball Association star Dennis Rodman is expected to arrive in the Democratic People's Republic of Korea (DPRK) on Tuesday for a trip the State Department said was not an official US visit, CNN reported on Monday.
Rodman declined to answer questions when he was seen by CNN reporters at Beijing International Airport, the network said.
Representatives for Rodman did not immediately respond to requests for comment.
CNN, citing two unnamed DPRK officials, said Rodman was expected to arrive in Pyongyang on Tuesday, but gave no additional details on the purpose of the trip.
Fox News, citing a senior Trump administration official, reported that Rodman was traveling to the DPRK as a "private citizen."
The White House and State Department did not respond to Reuters requests for comment.
Rodman, 56, nicknamed "The Worm" during his playing career and known for his tattoos, body piercings and multi-colored hair, is considered one of the best defensive players and rebounders in NBA history.
He won five league championships with the Detroit Pistons and Chicago Bulls.
Reuters