Flying Tiger pilot finally coming home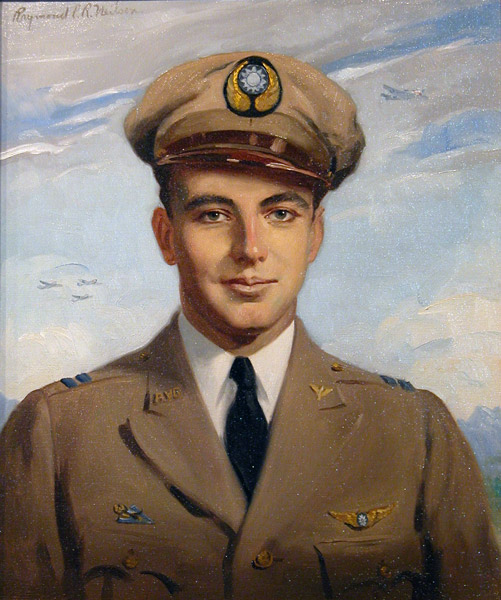 A life size oil painting painted of John Dean Armstrong after the war, commissioned by the American Volunteer Group. The paintings of AVG casualties were originally in the Smithsonian, but now hang at Robbins Air Force Aviation Museum in Macon, Georgia. Provided to China Daily
The first Flying Tiger pilot killed in China's War Against Japanese Aggression will be brought home to Kansas on Saturday after his family's 13-year quest.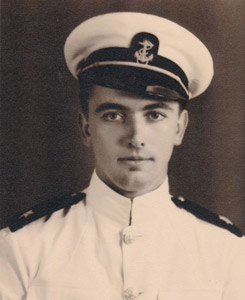 John Dean Armstrong as a naval cadet in flight school before he joined the Flying Tigers group. Provided to China Daily
John Dean Armstrong was a US Navy who volunteered to teach pilots for the Chinese air force. He was 24 years old when he was killed in a training accident while flying a P-40 in the skies over Myanmar in 1941, just three months before the US entered the war. He would have turned 100 this year.
"I kept imagining my grandmother saying goodbye to her only son, knowing he was going all the way across the ocean to Burma (Myanmar) and never ever getting him back again," said Karen Beauprie, a niece of Armstrong.
For a long time, her mother told her never to bring up her uncle's name and the family would take down his pictures on the wall when her grandparents came to visit.
Thirteen years ago, Beauprie and her cousin Lynn Evans, both mothers of sons themselves, made a decision to find their uncle and bring him home.
"We have a lot of family members that thought we were kind of crazy - why would you want to do that? He was already buried, what difference does it make?" she said. "It makes a difference to know the remains are close by and that he will be honored with their families there."
All of the Flying Tigers were given Distinguished Flying Cross awards and granted military status in 1994. At the time of Armstrong's death they were civilians, which made it impossible for his parents to get his remains returned to the US.
Armstrong's father traveled to Myanmar and tried to locate his son's grave but failed.
"Up until 2015, we were under the assumption that Dean was still in Burma," said Beauprie. The cousins had photographers try to map the cemetery, Burmese tour guides actually walk the cemetery for them and a Canadian graduate student trek from Thailand to Burma to look for the graves.
The cousins also enlisted the help of researchers and agencies, including the Department of Defense POW/MIA Accounting Agency.
Along with Armstrong, there were two additional pilots, Peter Atkinson of West Virginia, and Maax Hammer of Illinois, who died a month later. All were buried together in an Anglican cemetery in Myanmar.
"What we have learned during the past two years was that the OSS (Office of Strategic Services) recovered all three pilots' remains in 1947, moved them to Barrockpore, India, performed forensics, and then in 1949 transported them as Unknowns to The National Military Cemetery of the Pacific (Punchbowl) in Hawaii," said Beauprie.
In April 2016, they were disinterred. With the help of DNA, Armstrong was identified in January.
Upon hearing the news, "I jumped up and down and screamed. I couldn't wait to talk to my cousin," said Beauprie. "It was satisfying, exciting and sad at the same time, because 75 years later he's coming home now."
The other two men had their memorial burials in March and April. Armstrong's is set for June 17 in Hutchinson, Kansas.
"There will be around 80 people attending the service, so we are having a family reunion to celebrate Dean's homecoming," said Beauprie.
The Navy will do the honors at the funeral and the Air Force will perform a Missing Man formation flyover for the service.
liazhu@chinadailyusa.com