WH Group scouts for beef, chicken assets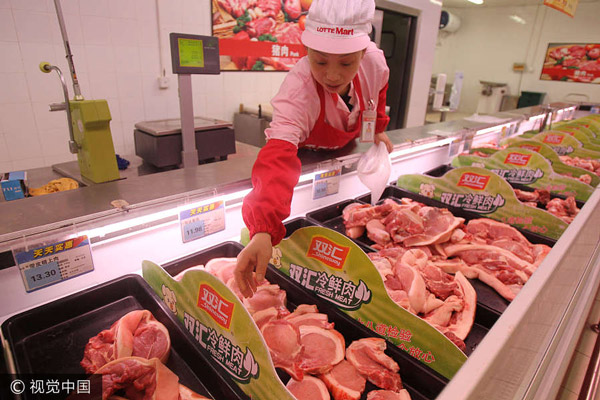 A file photo shows a worker arranges fresh meat at a supermarket in Nantong, Jiangsu province. [Photo/VCG]
WH Group Ltd, the world's largest pork producer after acquiring US-based Smithfield Foods in 2013 for $4.7 billion, is ready to diversify its product line by possibly buying beef and chicken companies.
"We are currently the largest player in pork globally, and as a food company, we will continue to expand our business scope and diversify animal protein exposure further. (It's) important to note that we do have businesses in poultry and we are already producing and selling some packaged beef products," Luis Chein, investor relations chief for WH Group, formerly known as Shuanghui International, said in an email.
Reuters reported on June 9 that Smithfield Chief Executive Ken Sullivan told it that he is interested in diversifying into other meats to broaden the company's product portfolio, although no deals are imminent. WH Group is looking for targets in beef and poultry in Europe and the US, Reuters reported, citing Chein.
Ted Schroeder, professor of agricultural economics at Kansas State University, said there is recognition that having products in beef, chicken and pork can diversify risk as well as increase overall brand equity.
"Risk reduction results because when beef for example is not profitable, pork or poultry may be doing much better and vice-versa. From a brand equity perspective, having the capability to offer product across the meat space increases visibility and can add to (the) brand image.In addition, significant economies of scope are present in meat processing and merchandising making it more cost effective to combine species," he wrote in an email.
Schroeder said the main pitfalls of adding beef and chicken to an existing pork company are that these are very capital intensive industries that are immensely competitive.
"We constantly see structural realignments, mergers, buying, and selling occurring in these industries because of the velocity of change occurring in the associated markets, in business goals, and in leadership vision. Capitalization often expects high returns, and volatility inherent in the meat industry can make these somewhat risky ventures especially if the time horizon of the company leadership is constrained," said Schroeder.
Expanding into beef and poultry would fashion Smithfield into an entity that is similar to competitors Tyson Foods Inc in the US and Brazil's BRF SA, and JBS SA, which each process beef, chicken and pork.
Last year, Chein told the South China Morning Post that his company's debts will have dropped to a more comfortable level by the end of 2017.
Prospects for the US beef industry improved after China said it would allow US beef exports to the mainland again next month after banning most shipments following an incidence of mad cow disease in 2003.
paulwelitzkin@chinadailyusa.com