UK 'at war' with terror threat
Senior security official says the nation needs better ways to monitor radicals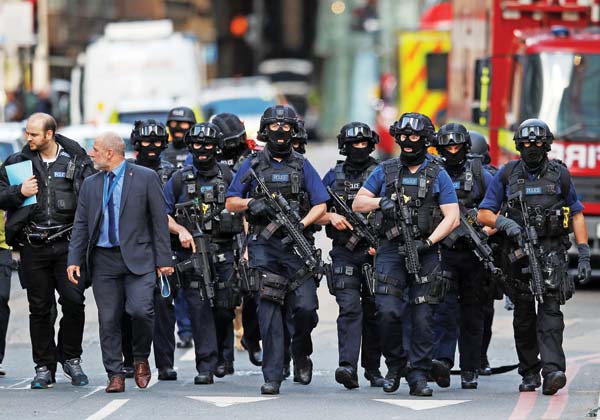 Armed police officers patrol the streets outside Borough Market on Sunday after the attack that left seven people dead and 48 injured. 
Britain is urgently looking at how best to boost the intelligence services' monitoring of Islamic militants, following the van and knife attack in the London Bridge area on Saturday that killed seven people and injured 48.
A security official speaking on condition of anonymity said the country was "at war" following the attack, in which three men wearing fake suicide vests and wielding knives drove a white van into pedestrians on the bridge before running amok in nearby Borough Market, killing seven and injuring 48. Police then shot dead the attackers.
"Make no mistake, we are now at war, and the way we handle intelligence has to change," the senior government official told China Daily. "Britain now faces two kinds of attack by these people-the carefully planned attack, such as the Manchester suicide bombing, and those using vehicles and knives, which would appear to be more spontaneous."
Officials do not see any traces of direct links between the latest attack and the May 22 Manchester bombing in which a man blew himself up at a pop concert, killing 22, nor do they think it is connected to the vehicle and knife attack on Westminster Bridge in March in which five people were killed. All attackers in the incidents were either shot dead by police, or, in the case of the Manchester bombing, took their own life.
"They are, however, linked by ideology," said the source.
Prime Minister Theresa May chaired a meeting of COBRA, the top emergency committee, on Sunday and later said: "We believe we are experiencing a new trend in the threat we face, as terrorism breeds terrorism." May said the United Kingdom's counter-terrorism strategy will be reviewed, and she promised to step up efforts to combat Islamist ideology and work with other countries to stop the internet being a "safe space" for terrorists.
She said there was "too much tolerance of extremism in our country" and explained that there would need to be "some difficult and embarrassing conversations" in order to bring about change.
"It's time to say enough is enough," she added.
Currently, UK intelligence services rely heavily on a mix of information from allied countries-including France, Germany, the United States, Australia, New Zealand and others-as well as intercepts of mobile phone calls, texts, and internet traffic. The work is carried out by experts at GCHQ, Britain's top-secret monitoring center near Cheltenham.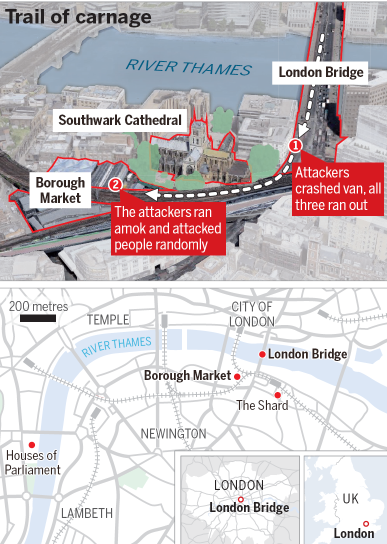 Officials said the monitoring works well in combatting attacks that require coordination and planning from perpetrators who typically communicate electronically, but it is less successful with spontaneous acts, such as in the case of the Westminster attacker, who was dubbed a "lone wolf".
Media reports recently quoted intelligence officials as saying there are an estimated 23,000 jihadists, or Islamic militants, in the UK.
In addition, out of the 850 Britons who are believed to have gone overseas to fight for Islamic State, around 400 are thought to have returned home, according to media reports.
Politicians have suggested measures in response to the threat, including internment without trial, stripping people of UK citizenship, and handing down stiffer prison sentences.
But the idea of internment without trial, which was last used against Irish Republicans in the 1970s, has been dismissed by most experts as being counter-productive. Analysts believe it would make the situation worse, in part because it would concentrate like-minded people in one place.
Following Saturday night's attack, police arrested 12 people in East London's Barking neighborhood, but gave no details.
May said officers had foiled five terrorist plots since March. Leaders from all over the world condemned the London attack. US President Donald Trump spoke with Theresa May after the attack, and Russian President Vladimir Putin said it was "shocking in its cruelty and cynicism". European leaders, including German Chancellor Angela Merkel, French President Emmanuel Macron, Italian Premier Paolo Gentiloni, and Spanish Prime Minister Mariano Rajoy have all voiced solidarity with the British government and expressed condolences to the victims.
Mark Rowley, London Metropolitan Police's assistant commissioner, said 36 people remained in hospital Sunday evening, with 21 critical.
Contact the writers at chris@mail.chinadailyuk.com