Silk Road inspired garden shines
A garden on display last week at Chelsea Flower Show that was sponsored by the Chengdu Tourism Administration won a silvergilt medal from judges.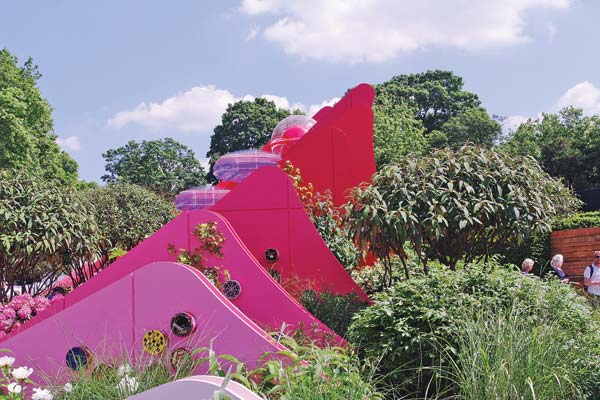 The vibrant hues of the Silk Road, Chengdu, display at the Chelsea Flower Show last week attracted a lot of attention, and the praise of the competition's judges. CHEN AOSHUANG/CHINA DAILY 
The show garden, named Silk Road, Chengdu, impressed at gardening's Oscars, which ended on Saturday. The show attracts close to 160,000 visitors each year. By participating, the city government of Chengdu hoped to attract attention to Sichuan province and boost the region's tourism industry.
Chengdu is the capital of Sichuan province, an area that is home to the giant panda and a great range of important plants. It was also a gateway along the Silk Road trading route.
Inspired by the rich history and culture of Chengdu, designers Laurie Chetwood and Patrick Collins created a space to symbolize the historical link between East and West.
A series of triangular fins growing bigger toward the center and deepening in color, from white to fire-red, evoked the mountains surrounding the city. Between these fins stood rhododendrons, primulas, poppies and other plants that originate in China.
Covering an area of 660 square meters, the Silk Road garden was one of the biggest at the show.
It stood on arguably the most challenging triangular site at the Chelsea Flower Show, an area that could be viewed from all sides, meaning nothing could be hidden at the back.
A standout feature of the garden was the use of firered colors. Usually, the color is difficult to match with green vegetation.
"I chose red because it signals happiness in Chinese culture," Cheetwood said. "We were afraid of the color contrast, but we employed red-flowering rhododendrons to echo the theme. And, after all, it looks good."
The Silk Road-inspired garden was a hit with visitors. Kelly, a garden-lover from Manchester said the vibrant colors stood out and she loved it. However, Kelly's mother, who described herself as a bit old-fashioned, said the garden had too much color.
The garden will be relocated to Chengdu, where it will become part of an ambitious project called Flower-Shrouded Chengdu that will see 20 large gardens created in suburban Chengdu.
The writer is a freelancer who contributed this story to China Daily.