London attacker Khalid Masood was a criminal with militant links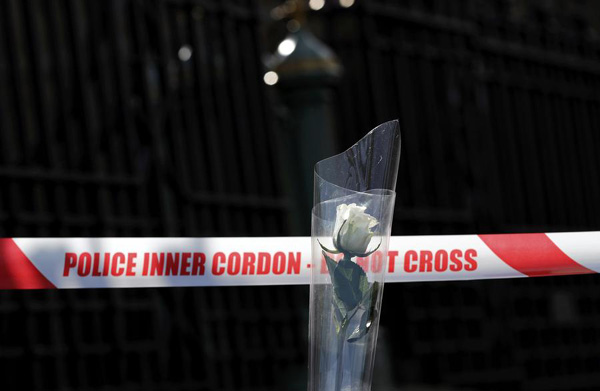 A floral tribute is seen near the Houses of Parliament in Westminster the day after an attack, in London, Britain March 23, 2017. [Photo/Agencies]
BIRMINGHAM, England - Before he killed at least four people in Britain's deadliest attack since the 2005 London bombings, Khalid Masood was considered by intelligence officers to be a criminal who posed little serious threat.
A British-born former teacher and Muslim convert, Masood had shown up on the periphery of previous terrorism investigations that brought him to the attention of Britain's MI5 spy agency.
Although some of those he was involved with included people suspected of being keen to travel to join jihadi groups overseas, Masood "himself never did so," said a US government source, who spoke to Reuters on condition of anonymity.
"Masood was not the subject of any current investigations and there was no prior intelligence about his intent to mount a terrorist attack," London police said in a statement.
"However, he was known to police and has a range of previous convictions for assaults, including GBH (grievous bodily harm), possession of offensive weapons and public order offences."
Islamic State claimed responsibility for Masood's attack, although it was unclear what links - if any - he had with the militant group.
The 52-year-old was born in Kent to the southeast of London and moved though several addresses in England, although he was known to have lived recently in Birmingham in central England.