Four-year-old treks miles of wolf-packed snowfield to save grandma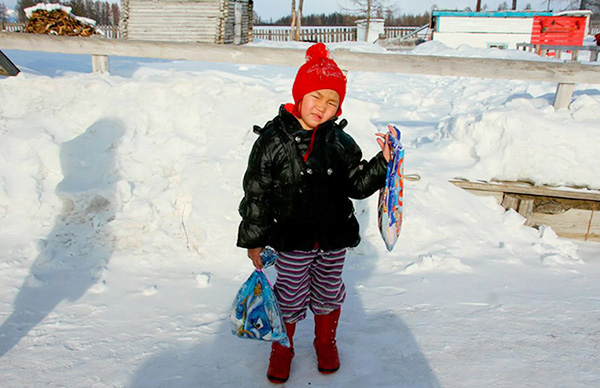 Saglana Salchak recently celebrated her fifth birthday. [Photo by Yury Darbaa/Siberian Times]
Most preschoolers struggle to go to school on their own, let alone trek 5 miles (8 kilometers) of snowfield packed with wolves in subzero temperature in Siberia.
However, a four-year-old girl Saglana Salchak in Russia's Tuva republic did just that last month to fetch help for her grandmother. Her heroic move touched souls around the world, but also raised concern about proper parental care and poor local facilities.
Her journey began when she was asked by her grandfather to get help when she found her 60-year-old grandmother motionless. Her grandfather, who is blind, did not realize it was 5 am and pitch dark, reported Siberian Times.
The only thing the girl had was matches, which she took in case she needed to light a fire, and followed the tracks of a horse sled, partly on a frozen river, which she knew led to the neighbor's home 8 kilometers away.
"It was very cold and I was so hungry," she later said. "But I wasn't scared. I just kept walking, walking, walking. And I finally got there."
The medical personnel later discovered that the grandmother had died of a heart attack.
The girl's story soon went viral and won hearts of many. "This four-year-old is amazing. My kids won't even walk to the neighbor's house," said a parent on freerangekids.com. "Hats off to the bravest girl in Siberia!" tweeted Scot uehlinger.
The Tuvans are a Turkic people ethnic group living in southern Siberia. They are historically known as one of the Uriankhai, from the Mongolian designation. As historically cattle-herding nomads, the Tuvan children are better prepared for emergencies than their counterparts living in the cities. They ride horses at a very young age, and can walk farther than normal people. Despite this, local people still worried about her when retrospect the scene. "Tuva has simply filled up with wolves," said Semyon Rubtsov, head of the regional search and rescue group to the Komsomolskaya Pravda newspaper.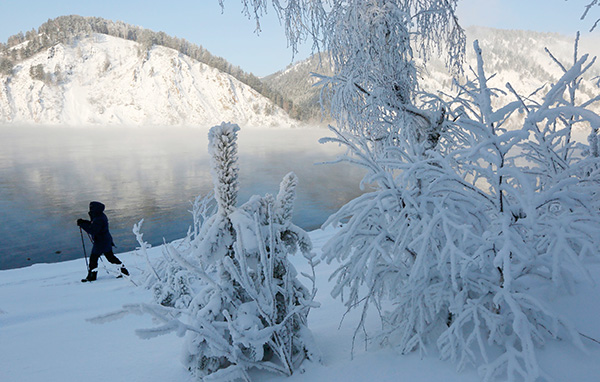 A man walks along a bank of the Yenisei river on a frosty winter day outside Krasnoyarsk, Siberia, Russia, January 11, 2017. [Photo/Agencies]
Saglana's mother Eleonora Salchak and stepfather live in another part of the region, and the Tuva investigative committee has filed a criminal case against the mother for leaving a minor in danger, reported the Guardian.
"She knew that the elderly lacked the ability to take measures to guarantee the child's safety," it said in a press release. If charged, the mother could face up to a year in prison. The committee said it was also investigating the actions of social policy officials in the girl's district.
Sayana Mongush, an activist and journalist in the regional capital of Kyzyl, told the Guardian that it was shocking Salchak's grandparents didn't have any phone or internet connection, especially since defense minister and Tuva native Sergei Shoigu previously promoted archeological digs at an ancient fortress located in their district.