'Now is not the time,' UK's May tells Scotland on independence vote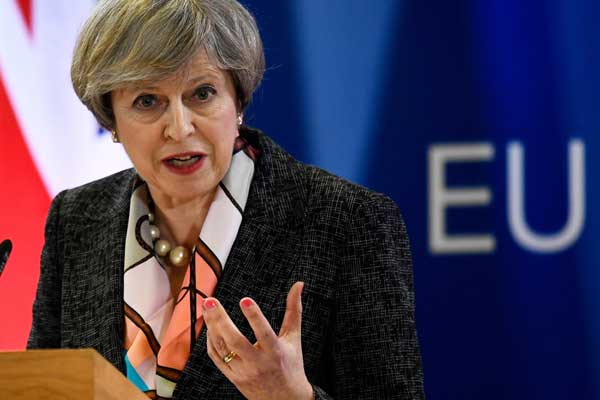 Britain's Prime Minister Theresa May attends a news conference during the EU Summit in Brussels, Belgium, March 9, 2017. [Photo/Agencies]
LONDON/EDINBURGH - British Prime Minister Theresa May told the Scottish government on Thursday "now is not the time" for a second independence referendum, saying it would be unfair to ask people to vote without knowing the result of Brexit talks.
While May fell short of saying her government would block a second independence referendum, her Scottish minister David Mundell was more forthright. He ruled out any discussion on the procedure to launch a vote now and immediately raised hackles north of the English border.
Scottish nationalists have called for a new referendum and accuse May of all but ignoring their demands in her preparations for divorce talks with the European Union.
Scotland voted to remain in the EU last June and Scottish First Minister Nicola Sturgeon said after May spoke that blocking an independence referendum would be undemocratic.
The remarks upped the ante in a war of words over Scottish independence as Britain prepares for intense EU exit talks.
"Right now we should be working together, not pulling apart," May told British television.
"We should be working together to get that right deal for Scotland, that right deal for the UK. That's my job as prime minister and so for that reason I say to the SNP (Scottish National Party) now is not the time."
Mundell said there would be no negotiations on Section 30, a procedure that allows the Scottish parliament to legislate for an independence referendum.
"We will not be entering into discussions or negotiations about a Section 30 agreement, and any request at this time will be declined," Mundell told a news conference.
He declined to clarify if or when a vote could take place.
Sturgeon hit back, accusing May's government of being frightened of listening to the Scots.
"Any bid by the UK Government to block the people of Scotland from making a choice will be untenable, undemocratic and totally unsustainable – and clearly shows that the UK Government recognises it is out of step with the Scottish people," she said in a statement.
"It would be outrageous for the Scottish Parliament to be frozen out of the process."