EU trade chief backs China in fight against protectionism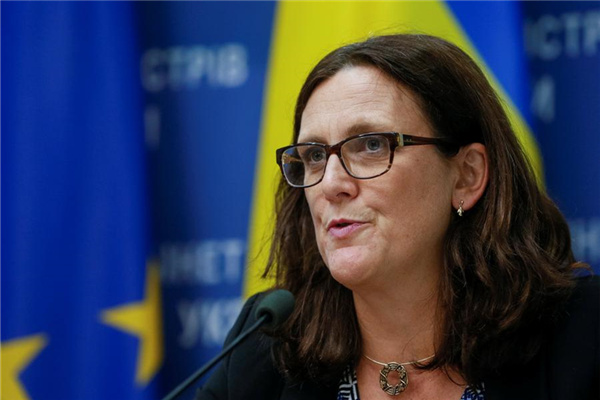 EU Trade Commissioner Cecilia Malmstrom backs China in fight against protectionism. [Photo/Agencies]]
The European Union (EU) stands firmly with China to fight global protectionism, a senior EU official in Brussels pledged on Monday.
"I welcomed President Xi Jinping's commitment in fighting against protectionism," EU Trade Commissioner Cecilia Malmstrom said at a seminar on China's reform agenda organized by Business Europe in Brussels.
Malmstrom said that she agreed with Xi's comment in his keynote speech at the World Economic Forum meeting in Davos, Switzerland, on Jan 17, and quoted him: "Pursuing protectionism is like locking oneself in a dark room. While wind and rain may be kept outside, that dark room will also block light and air."
Malmstrom said that she also agreed with Xi when he said, "No one will emerge as a winner in a trade war."
With US President Donald Trump challenging the alliances and partnerships of global powers since taking office, the EU has been re-positioning its relationship with its alliances and partners, including China.
In further embracing openness and globalization, Malmstorm said both China and the EU should continue the reform agenda.
She said many barriers and challenges between China and the EU still exist in boosting trade and investment, though China and the EU are their own respective big trade partners.
While the Transatlantic Trade and Investment Partnership between the US and the EU "is now frozen," the commissioner said China and the EU can work more effectively this year in bilateral investment talks to pave the way to enter each other's market more openly and with fair terms.
Business leaders echoed the commissioner's views on fighting protectionism, but they said the EU must create more business opportunities.
Jochum Haakma, president of the EU-China Business Association, said that Europe should actively engage in the talks on the Belt and Road Initiative, which was proposed by Xi three years ago to bring Europe, Asia and Africa closer.
"There is a feeling that Europe is not fully engaged in the talks of the Belt and Road initiative, which is a huge plan, and I think the plan will bring a lot of changes in the coming years," Haakma told China Daily.
China will be organizing an international forum on the Belt and Road Initiative in Beijing in May, and Haakma said Europe should take that opportunity to try to expand investment in China and attract more investment to Europe as well.
"I think there will be huge opportunities for European companies if we grasp these opportunities offered in implementing Belt and Road initiative," said Haakma.
In citing the Chinese government's multi-trillion-dollar plan to invest overseas, a representative from PA Asia Ltd Beijing representative office said the EU also needs to design such an ambitious plan to invest.
The representative, who commented on the condition of not being named, said that Asia now is the most attractive destination in the world and the EU should take advantage of a partnership with the Asian Infrastructural Investment Bank (AIIB) to expand investment.
"This is what the European Union should do in following China in rolling out an investment plan," the representative said during an interview at the Monday seminar.