US suspends enforcement of travel ban; Trump bashes judge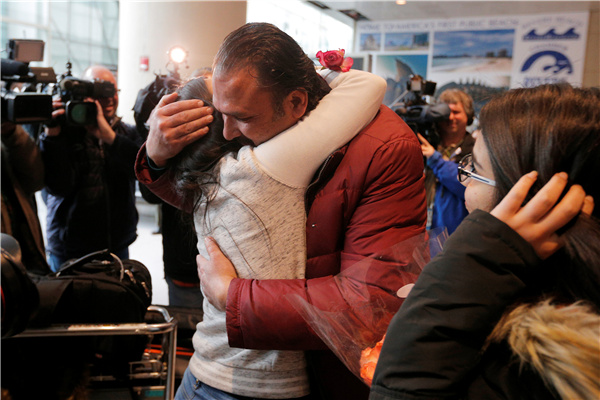 Banah Alhanfy is greeted by her uncle (R) at Logan Airport after she cleared U.S. customs and immigration on special immigrant visa in Boston, Massachusetts, on February 3. Alhanfy's father was an interpreter for the United States in Iraq and she arrived in the US following US President Donald Trump's executive order travel ban. [Photo/Agencies]
The US government on Saturday suspended enforcement of President Donald Trump's refugee and immigration ban and scurried to appeal a judge's order, plunging the new administration into a crisis that has challenged Trump's authority — and ability to fulfill campaign promises.
The stand-down, a day after a federal judge in Washington state temporarily blocked the ban, marked an extraordinary setback for the White House. One week ago, Trump had acted on his own to suspend America's refugee program and halt immigration to the US from seven Muslim-majority countries that the US says raise terrorism concerns.
As the White House worked to reinstate the ban, Trump mocked US District Judge James Robart, appointed by President George W. Bush, as a "so-called judge" whose "ridiculous" ruling "will be overturned."Trump's direct attack recalled his diatribes during the campaign against a federal judge of Mexican heritage who was overseeing a Trump University case. Justice Department lawyers could be called upon to answer for his words as the travel ban case reaches the 9th US Circuit Court of Appeals.
The order had caused unending confusion for many foreigners trying to reach the United States, prompted protests across the United States and led to a series of court challenges.
The State Department on Friday said as many as 60,000 foreigners from Iraq, Syria, Iran, Sudan, Libya, Somalia or Yemen had their visas canceled. The department reversed course Saturday, saying they could travel to the US if they had a valid visa.
The Homeland Security Department no longer was directing airlines to prevent visa-holders affected by Trump's order from boarding US-bound planes. The agency said it had "suspended any and all actions" related to putting in place Trump's order, which the White House argued was "intended to protect the homeland."The Justice Department was expected to ask the 9th Circuit to set side Robert's ruling so the ban could go back into effect.
Trump already made clear what he thought of Robart's action.
"The opinion of this so-called judge, which essentially takes law-enforcement away from our country, is ridiculous and will be overturned," Trump tweeted. "When a country is no longer able to say who can and who cannot come in & out, especially for reasons of safety & security - big trouble!"That rhetoric could put government lawyers defending Trump's order in a tough spot if a federal appeals court were to ask them about it.
"Either they have to defend the statements that Judge Robart is a 'so-called judge,' which you can't do, or they have to distance themselves from the president, who is their boss," said University of Pittsburgh law professor Arthur Hellman.
With legal challenges pending, two prominent Middle Eastern air carriers announced they would resume carrying passengers from the seven affected countries. Qatar Airways and Etihad Airways, national carrier of the United Arab Emirates, said US-bound travelers from those countries with valid visas would be allowed to board.
In Egypt, Cairo airport and airline officials said they have received instructions from the US Customs and Border Protection to suspend President Trump's executive order.
Government-backed Qatar Airways is one of a few Mideast airlines operating direct daily flights to multiple American cities. Its US destinations from its Doha hub include New York, Chicago, Los Angeles, Miami and Washington.
The executive order has caused chaos within the government and the courts since it was announced a week ago. Trump fired Sally Yates, an Obama administration holdover who was serving as acting attorney general, after she said the Justice Department would not enforce it. Hearings were held Friday in separate court challenges across the country.
In their arguments to the court, Washington state and Minnesota said the temporary ban and the global suspension of the US refugee program significantly harmed residents and effectively mandated discrimination.
Federal attorneys had argued that Congress gave the president authority to make decisions on national security and immigrant entry.
But in his written order released late Friday, Robart said it's not the court's job to "create policy or judge the wisdom of any particular policy promoted by the other two branches," but rather, to make sure that an action taken by the executive or legislative branches "comports with our country's laws."