UK's May outlines plan for 'hard' Brexit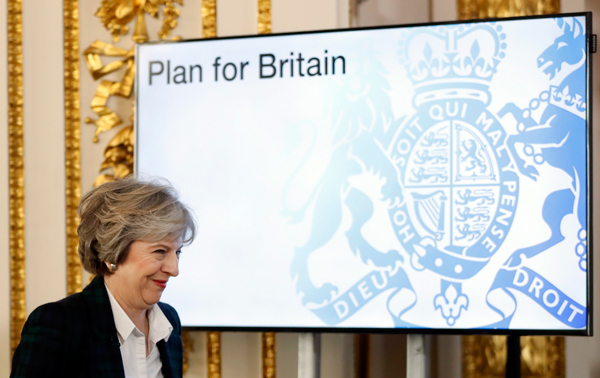 Britain's Prime Minister Theresa May smiles as she arrives to deliver a speech on leaving the European Union at Lancaster House in London, January 17, 2017.   [Photo/Agencies]
May said she wanted the freest possible trade with Europe that would also give Britain "control of the number of people who come to Britain from Europe".
The prime minister said she sought a "stronger, fairer, more united Kingdom" and "a country that reaches beyond the borders of Europe."
May also said that the UK would withdraw from the jurisdiction of the European Court of Justice, the highest court in matters of European Union law.
The prime minister is due to trigger the EU's Article 50 in March to formally launch a two-year negotiating period.
However, the Supreme Court is widely expected to back a legal challenge that would oblige the government to subject that process to a parliamentary debate during which its Brexit strategy might be challenged.
She promised on Tuesday that both houses of Parliament would have an opportunity to vote on a final Brexit deal before it came into force.
In what appeared to be a gesture to business concerns, May said she aimed for a smooth and orderly change in the relationship between Britain and the EU, with measures gradually phased in as the process progressed.
The government would "seek to avoid a disruptive cliff edge".
Government leaders in the rest of the EU have been at pains to remind May that negotiations are a two-way process and that the UK cannot expect a tailor-made deal that would give it better terms than those enjoyed by its European partners.
May said Britain sought "associate membership" of the European customs union to limit future barriers to Britain trading with the EU. But the UK also wanted an arrangement that allowed it to embark on free trade deals with the rest of the world.
Leaving the customs union would mean Britain would no longer benefit from the EU's free trade deals with other countries. At the moment member states all charge the same import duties to countries outside the union.
May had previously defended her policy of not revealing a Brexit plan in order not to give away her position in forthcoming talks. But she was widely ridiculed by the Remain camp for having limited herself to saying: "Brexit means Brexit."
The writer is a senior media consultant to China Daily.