Rogue One opens in China with low box-office take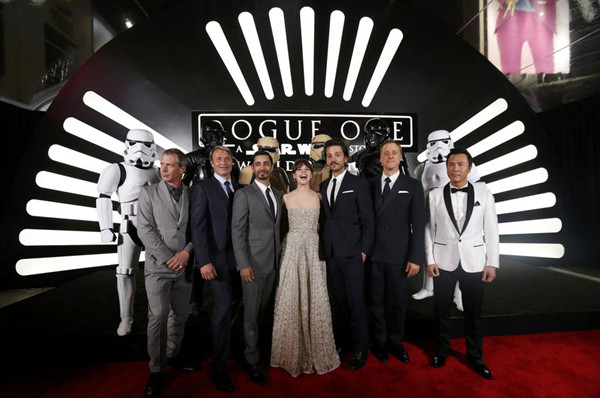 The cast poses on the red carpet as they arrive at the world premiere of the film "Rogue One: A Star Wars Story" in Hollywood, California, US, December 10, 2016. [Photo/Agencies]
Despite the inclusion of two popular Chinese actors, the latest Star Wars film struggled to pull in big audiences for its first weekend of release in China, though it was able to win first place at the box office.
Rogue One: A Star Wars Story, a spin-off movie in the Star Wars franchise, opened to $31 million over three days in China, several weeks after it made its North American debut with $155 million. The latest reboot in the Star Wars series, The Force Awakens, made close to $60 million when it opened in China last year in a near-identical calendar slot.
The latest installment beat out Some Like It Hot, a domestic comedy, Railroad Tigers, starring Jackie Chan, The Great Wall, the US-China co-production directed by Zhang Yimou, and See You Tomorrow.
Walt Disney Co had promoted The Force Awakens extensively in China, and many saw the casting of action stars Donnie Yen and Jiang Wen in Rogue One as Disney's attempts to make the film more relevant to Chinese audiences. The franchise is not as culturally significant in China as it is in the US and other western markets, with many Chinese never having seen the first six films in the series.
Rogue One has made $477 million in the domestic North American market since its release on Dec 16 and is expected to continue to do well at the box office, though it most likely won't be able to beat last year's The Force Awakens blockbuster domestic receipts of $936 million total.
Both films opened in China weeks after they had opened in US, which analysts predicted played a contributing factor to depressed performances in China. The trickier aspect for Rogue One is that Lunar New Year comes early this year, landing on Jan 28, and the week leading up to the holidays is generally a quiet time at the movies in China.
Once Lunar New Year begins, theaters shift away from playing foreign movies in what is known as a "blackout" period when only domestic films are shown. This gives Rogue One roughly two weeks at the box office before it finishes its run in China.
The Chinese box office experienced a sluggish 2016, growing at just 3.7 percent over 2015 after more than a decade of 30 to 40 percent gains every year. Revenue was 45.7 billion yuan ($6.6 billion) in 2016, according to official figures released by the State Administration of Press, Publication, Radio, Film and Television.
The most popular films last year were in the superhero, cartoon, and video game categories, according to analysis from Reuters. Revenue from China accounted for 13 percent of the top 20 US movies, three times the level it was five years ago.
Money made from Chinese customers can often offset disappointing performances in other markets, such as how the Warcraft movie did in China as compared to the rest of the world. It made $220 million in China compare to the $47 million in the US.
Despite the Chinese box-office slowdown, China is still expected to overtake the US within the next several years.