Tourists flock to UK for Spring Festival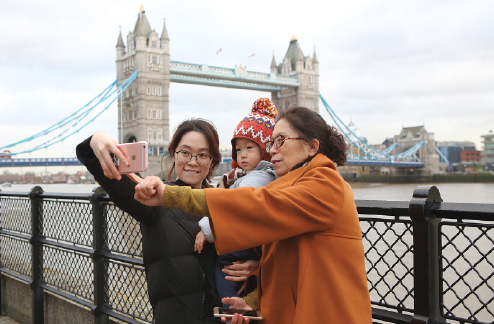 Three Chinese tourists pose for a selfie next to the River Thames in London.[China Daily]

Chinese tourists are flocking to Europe around the annual Spring Festival holiday period, with analysts reporting a record 68.5 percent increase in flight bookings for the January-February period, compared to last year.
Spain and the UK are the top destinations, according to travel analysis company Forward Keys, which says flight bookings from China to the UK between November 2016 and January 2017 were up 17 percent year-on-year. The UK's decision to exit the European Union has seen a slump in the value of the pound, making it cheaper for Chinese tourists.
France, which was the most popular European destination in 2015, slumped to fifth place in 2016, with China-originated bookings for the country falling 23 percent between January and October.
Forward Keys attributed the drop largely to terrorist incidents in Paris and Nice, as well as floods and labor strikes.
Tourism has become Britain's seventh-largest export business and is now its third-largest service sector. Visit-Britain, the country's official tourism body, estimates that for every 22 additional Chinese visitors to Britain, an extra UK job is created in the industry.
The decline in the pound means Britain is now 11 percent cheaper for Chinese visitors than it was a year ago, according to currency analysts.
"China is the world's largest outbound market and a huge tourism opportunity for Britain," Patricia Yates, director of Visit Britain, told China Daily. "Chinese New Year is traditionally one of the busiest travel times for Chinese travelers and, with Britain offering great value right now, we want to make sure the UK is at the top of their list as a must-go-now destination."
The latest data from Forward Keys shows flight bookings from China to the UK are up 81 percent this month, compared with January 2016. They have already increased 43 percent for January to March 2017, compared with the same period in 2016, which also included last year's Chinese New Year celebrations.
The UK and China are now linked by regular flights operated by British Airways, Air China, Hainan Airways, Tianjin Airways, China Southern, China Eastern, and Virgin Atlantic.
Chinese visitors stay longer and travel more widely in Britain than other international visitors, averaging 15 nights compared with eight for other visitors, with more than half of this time spent outside London. They are also among the highest-spending visitors to the UK, spending an average of 2,174 pounds ($2,645) per visit, which is more than three times the average visitor.