Rebels to evacuate Syria's Aleppo by dawn Wednesday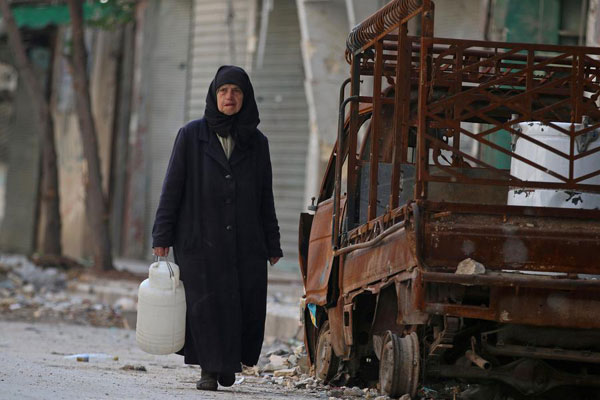 A woman carries a container of water as she walks past a burnt pick-up truck in the rebel held area of Old Aleppo, Syria November 14, 2016. [Photo/Agencies]
DAMASCUS - The rebels will evacuate the northern city of Aleppo by dawn Wednesday, pan-Arab al-Mayadeen TV reported.
The rebels' evacuation comes as a result of intense negotiations between local and international powers for allowing the rebels to leave form the few remaining areas under their control in the eastern part of Aleppo, toward the western countryside of the city, said the report.
An undisclosed number of rebels will be evacuated out of Aleppo through al-Ramuseh road, the current road into and out of the city, toward the Rashidien area.
The civilians will have the choice to remain in their areas.
The general-command of the Syrian army is expected to make a statement soon to declare the official Syrian stance on the current situation in Aleppo.
Vitaly Churkin, Russia's permeant representative to the UN, said during a UN Security Council session Tuesday that "a deal has been reached for the evacuation of only the rebels from Aleppo in the next hours," stressing that "no one will harm the civilians."
Earlier in the day, a military source told Xinhua that the Syrian army has cornered the rebels in a very small area in Aleppo, trapping them in the neighborhoods of Mashad, Ansari and Amiriyeh.
This comes as thousands of civilians kept flooding out of eastern Aleppo toward government-controlled areas, and temporary shelters, where their identities are being scrutinized.
Local reports placed the number of evacuated people from eastern Aleppo at more than 80,000.
State news agency SANA said thousands of civilians fled eastern Aleppo on Tuesday alone.
Over 1,000 rebels surrendered in eastern Aleppo over the past two days.
On Monday and Tuesday evening, celebrations broke out in Aleppo, as the army has almost captured the city, with people chanting in support of President Bashar al-Assad and the army.
The state TV said it was the day of celebration for Aleppo's victory.
Sources in Aleppo said that the Syrian army is expected to make the declaration of the victory on Tuesday evening, or Wednesday morning.