Environmental activists say US election will not impact climate change talk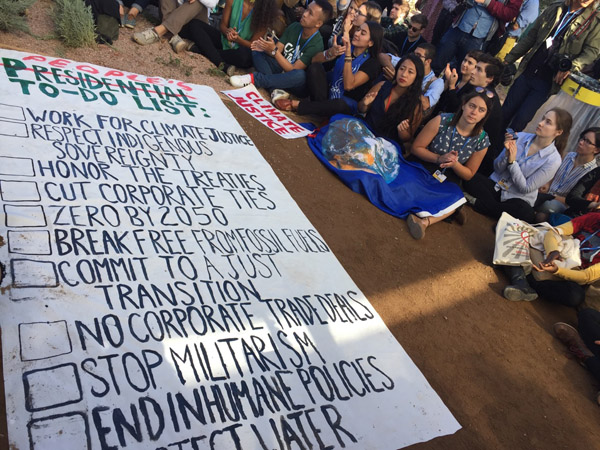 US and global youth protested inside the UN climate change conference in reaction to Donald Trump's victory in the presidential election on Wednesday. [Photo by Wang Yanfei/China Daily]
Donald Trump is not able to fundamentally change the trend of united global efforts to combat climate change, environmental activists said on Wednesday.
"As a global community, we can and must solve the climate crisis," Mariana Panuncio, climate change director with the World Wildlife Fund, said after news of Donald Trump's victory reached Marrakech, Morocco, where delegates from more than 190 countries gathered at the United Nations climate change conference to discuss details of implementing the Paris Agreement in the next two weeks.
"In politics we know the pendulum swings from one side to the other, but science keeps moving in one direction," she said.
Trump's denial of manmade activities causing climate change could hardly strip the progress being made by more than 100 countries, according to Panuncio.
As of Wednesday, a total of 103 out of 197 parties have ratified the agreement.
Panuncio said that although election results will impact the tone of negotiations at the climate change conference, it will not stop global cooperation on tackling climate change.
"The tasks ahead on tackling climate change challenges remain the same," she said.
In line with her remarks, Alden Meyer,director of strategy and policy for Union of Concerned Scientists, a Washington-based NGO, said that Trump needs to acknowledge the reality of climate change.
Meyer said if he insists upon his current attitudes, it would cause a negative impact to US collaboration with countries in other fields.
"I assume that other countries of the world will move ahead with climate ambition, because it's in their own self-interest to protect their citizens and reap economic benefits," he said.
"If President Trump were not to honor US commitments, it will negatively impact his ability to negotiate on other priorities of international collaboration he has," Meyer said.