Trump beats Clinton in 2016 US presidential election: Media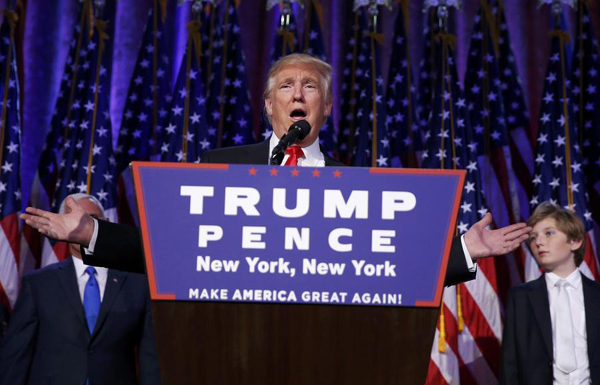 Republican US president-elect Donald Trump speaks at his election night rally in Manhattan, New York, US, November 9, 2016. [Photo/Agencies]
Trump captured conservative states in the South and Midwest, while Clinton swept several states on the East Coast and Illinois in the Midwest. Clinton won Nevada and Virginia.
Clinton, 69, acknowledged a battle that was unexpectedly tight given her edge in opinion polls going into Election Day.
She tweeted: "This team has so much to be proud of. Whatever happens tonight, thank you for everything."
A wealthy real-estate developer and former reality TV host, the 70-year-old Trump rode a wave of anger toward Washington insiders to challenge Clinton, whose gold-plated establishment resume includes stints as a first lady, US senator and secretary of state.