S.Korean president's approval rating drops on confidant scandal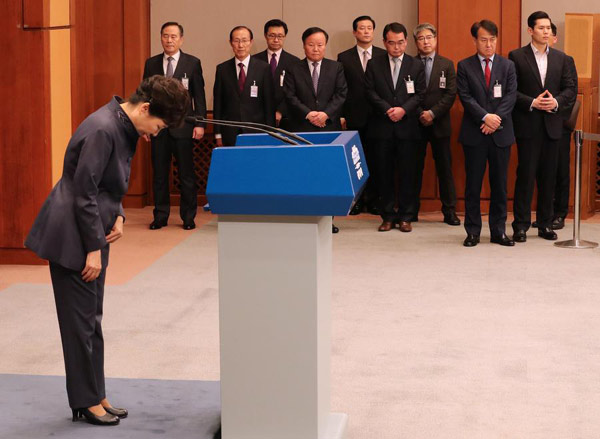 South Korean President Park Geun-hye bows after releasing a statement of apology to the public during a news conference at the Presidential Blue House in Seoul, South Korea, October 25, 2016. [Photo/Agencies]
Park's apology, however, failed to stop controversy. A domestic newspaper Hankyoreh reported on Wednesday that Choi actually intervened in national affairs, including inter-Korean affairs and the appointments of ministers.
Lee Seong-han, former secretary-general of Mir Foundation who worked with Choi, said in a Hankyoreh interview that Choi discussed issues on state affairs, including the shutdown of the Kaesong Industrial Complex and the appointment of ministers, at secret meetings in her office in Seoul.
The report triggered speculation that Choi, who has no official title in public office but has been seen as a behind-the-curtain heavyweight, has exercised influence over the state management.
Denying the allegation, Unification Ministry spokesman Jeong Joon-hee told a press briefing that the decision to close the Kaesong complex was made after discussions among relevant ministries and a meeting of national security council in the presidential office.
The inter-Korean factory park in the Democratic People's Republic of Korea (DPRK)'s southwestern city of Kaesong was closed down by South Korea following Pyongyang's fourth nuclear test on Jan 6 and the launch on Feb 7 of a long-range rocket.
Calls arose for the president's resignation and even impeachment. Lee Jae-myung, mayor of Seongnam city in Gyeonggi province, said in his Facebook account that President Park should step down to take responsibility for state crisis.
Lee, one of presidential hopefuls in the main opposition Minjoo Party, said the opposition bloc should begin a procedure of impeaching Park as the president confessed her crime of destroying a state system.
According to the Realmeter survey, 42.3 percent of respondents demanded the president's resignation or impeachment to take responsibility for the Choi Soon-sil scandal.
Criticisms came even from Saenuri Party lawmakers. The ruling party called on the president to replace senior presidential secretaries and cabinet ministers, agreeing with the main opposition party to appoint a special prosecutor to investigate into the case.
Some of Saenuri Party lawmakers even demanded President Park drop her party affiliation.