Venezuela's assembly to open trial against President Maduro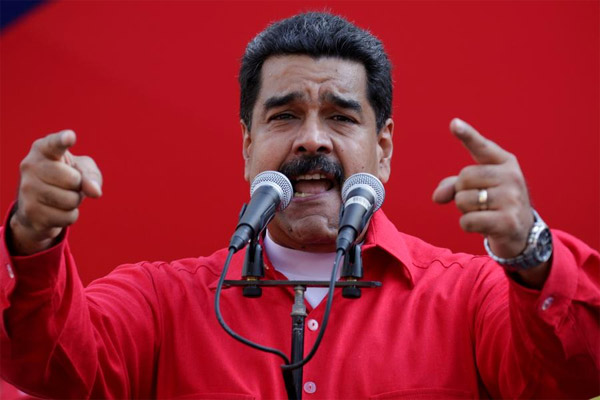 Venezuela's President Nicolas Maduro speaks during a pro-government rally at Miraflores Palace in Caracas, Venezuela October 25, 2016. [Photo/Agencies]
CARACAS - Venezuela's national assembly (AN), which is controlled by the opposition Democratic Unity Roundtable (MUD), declared Tuesday it would begin a political trial against President Nicolas Maduro, but Maduro said this is a "parliamentary coup", calling for dialogue.
At the conclusion of a two-day parliamentary session, the MUD majority said that Maduro had caused the political, economic and social crisis engulfing the country and said it would begin a "political and criminal trial" for him defying the constitution.
The MUD is accusing Maduro of defying the constitution after a process to begin a recall referendum against him was suspended by electoral authorities on Oct. 20.
In a statement, the AN announced the beginning of procedures against Maduro and summoned him to appear before the assembly on Nov. 1.
During the debate, MUD legislator Juan Miguel Matheus said that "structures of corruption" in the government had left the country in a crisis. Others accused the government of wasting millions of U.S. dollars on trips abroad while having ruined the country's economy.
However, unlike Brazil, where former President Dilma Rousseff was impeached by Congress, this trial is unlikely to have a real impact since the presidency and the Supreme Court have refused to recognize the AN's authority.
In response to the news, Maduro, who returned from a trip abroad on Tuesday, said that "we will not allow a parliamentary coup in Venezuela."
In a public speech to a crowd of supporters in Caracas, the president said that moves against him were "a lash" from U.S. President Barack Obama, who "wants to hurt Venezuela before leaving office."
Adding that the Constitution empowers the president to defend democracy, Maduro nevertheless made a call for dialogue.
"I call on all the sectors who want dialogue to not let themselves be swayed by hate. On Sunday, we will dialogue with all the powers of the state in the name of the Venezuelan people," he added.
He invited the presidents of the National Electoral Council, of the Supreme Court and of the National Assembly, MUD lawmaker Henry Ramos Allup, to meet with him.